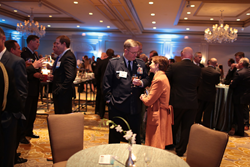 People attend Global SOF events for a reason. They want to connect. They want to find solutions.
San Diego, CA (PRWEB) March 22, 2017
The Florida-based Global Special Operations Forces Foundation works to connect and convene the global Special Operations Forces (SOF) community at multiple annual events across the United States and Europe. This community includes active duty and retired military, thought leaders in policy and diplomacy, influencers across academia, and members of the defense industry. Current Global SOF Foundation annual events include a February symposium in Tampa, FL, a November policy seminar and reception in Washington, DC, and a fall European symposium held in rotating cities. This year's will take place in Bucharest, Romania, while last year's inaugural event was held in Vilnius, Lithuania.
This San Diego networking reception was a logical addition to the Global SOF Foundation's event calendar. The greater San Diego area is home to several SOF commands, including Naval Special Warfare Command (NSW) and units from Marine Corps Forces Special Operations Command (MARSOC). The abundance of active and retired members of the military has led many defense-focused businesses, small and large, to root themselves in San Diego. These factors, coupled with the views and weather, made Coronado Island the prime location for a networking reception.
As Global SOF Foundation President Stu Bradin said at the Global SOF Symposium in February, "GSF events are all about connecting people." While GSF receptions are focused heavily on networking opportunities, this event will also feature a keynote speaker. Capt. Keith Davids, the Deputy Commander of NSW, will provide remarks to the audience, focusing on NSW's approach to the future of special operations.
The West Coast called and the Global SOF Foundation answered; the special operations-focused non-profit organization is heading to San Diego to host a networking reception on April 5. This event is open to anyone that is interested in learning more or collaborating with SOF, with discounted entry fees for students and Global SOF Foundation members. It is also free for active duty members of the military and government civilians.
Register to join our elite community at this event at the link below:
https://globalsoffoundation.org/2017-west-coast-reception
--------------------
The Global SOF Foundation is a 501(c)(3) non-profit organization and the only professional association for the international Special Operations community. The Foundation mission is to both advocate for SOF resourcing and convene the SOF community.
https://globalsoffoundation.org/