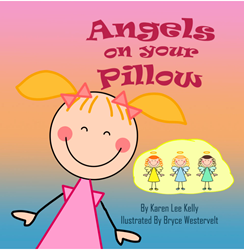 Angels are the bridge that connect human beings to pure and unconditional love.
Schaumburg, Illinois (PRWEB) March 15, 2017
Karen Kelly had a dream over 10 years ago to write a story that would promote God's unconditional love for everyone. The goal was to tell it in a way that would both interest children and adults. With much thought and work over the years, Kelly recently released "Angels on Your Pillow."
In her book, Kelly shares the story about an inquisitive young girl who wonders about her three guardian angels who visit her when her family sleeps. She is unable to see the angels and her fish friends try to help her see them. In the end, the angels leave a sign to announce their presence.
"Angels are the bridge that connect human beings to pure and unconditional love," Kelly, of Hoffman Estates and president of the Schaumburg-based Confident Currency Inc.— dba ITEX in Chicagoland, says. "Much like the child's inability to see angels surrounding her, we go through life without recognizing the importance and power that pure love has above everything else. Some of us fill the void with materialistic and indulgent behaviors. Others may feel unworthy and go through life punishing themselves. The truth is that each and everyone of us are loved more than we will ever know. When we allow ourselves to accept and welcome that reality, we achieve inner peace and become messengers of love ourselves."
The work to produce the book included Kelly designing a layout, taking art lessons and finding the right illustrator to bring the story to life. Realizing that her artwork wasn't the right fit, she employed the talents of illustrator Bryce Westervelt who created whimsical and cheery stick figures. Though considered a children's book, Kelly explains that it is for any age.
Kelly is planning to create a series of future angel adventures as well as coloring books, "Angels on Your Pillow" related clothing and other merchandise on the horizon. She shares what the next story will entail.
"Each story will have a child who mistakes or misunderstands something and real angels will make sense of it all," she says. "Each book will also have an acronym on the last page as a message from the angels. Next book is about a boy named Flynn that thinks snowflakes are angels."
For information about Karen Kelly, visit her website at https://www.angelsonyourpillow.com/
About Karen Kelly:
Author Karen Kelly of Hoffman Estates recently released her children's illustrated picture book called "Angels on Your Pillow." The book focuses on bringing awareness to pure unconditional love in a playful way. She shares the story of an inquisitive young girl who wonders about three guardian angels that visit her while the rest of the family sleeps. The book was released in late 2016. Karen is also president and problem solver of Confident Currency Inc.—dba ITEX in Chicagoland. Karen's passion and niche is to help small business owners support one another by using ITEX Barter Network as a means to maximize their sales, gain exposure and offset their expenses.