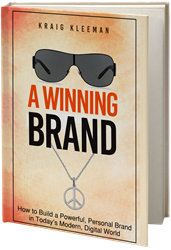 Success requires boldness, hard work, and a willingness to take a fearless evaluation of your talents and gifts. Be bold, work hard, and be fearless in your quest to develop your brand.
Chicago, Illinois (PRWEB) March 16, 2017
Kraig Kleeman, the World's Greatest Cold Caller and a world-leading expert on sales processes, debuts his newest book, A Winning Brand, which has hit #1 International Best Seller in 10 countries with more than 11,000 copies downloaded.
The world is getting more and more crowded, and in today's digital age, it's more important than ever to stand apart from everyone else. Kraig Kleeman condenses his years of experience in building ultra-successful brands to guide readers through the processes necessary to build an amazing brand that can protect against economic instability.
In the past 10 years Kraig Kleeman has architected the entire selling model for more than 50 cloud-based computing companies, and more than 75 companies in other industries. From 2011 – 2014, sellers who were trained and certified in Kraig Kleeman's The Must-React System completed one million outreaches, scheduled 252,000 meetings (mostly with senior executives) and generated more than $400 million in net revenue.
Now, Kraig takes his audience on a journey to reinvent their brand, build a loyal following, be seen as the expert in their field, earn more customers and referrals, gain increased visibility, and establish a reputation of being the best in the business. Fellow author and motivational speaker Brian Tracy says of Kraig's book, "Separate yourself from your competition and create a personal brand that matters. Kraig Kleeman and his new book A Winning Brand will show you how."
About Kraig Kleeman
Kraig Kleeman is the World's Greatest Cold Caller and a world-leading expert on sales process, sales transformation, and professional motivation. Kraig Kleeman developed The Must-React System, from which certified and trained sellers generated more than $400 million in net revenue. Kraig is also the Founder of KraigKleemanTV, an instructional sales training channel on YouTube. He is one of the most sought-after speakers in the world and has spoken on panels and forums with President George W. Bush, British Prime Minister Tony Blair, Silicon Valley Guru Guy Kawasaki, and other great influencers. To learn more, contact info@kraigkleeman.com or call 872-228-5169, and visit http://www.kraigkleeman.com.
Book Order and Download: https://www.amazon.com/dp/B01MUZZWK4 $9.95 Kindle, $17.95 paperback
Twitter: https://twitter.com/kraig_kleeman
Facebook: http://facebook.com/kraig.kleeman
LinkedIn: https://www.linkedin.com/in/kraigkleeman/
YouTube: Kraig Kleeman TV