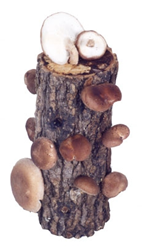 We're the only company that guarantees its logs. We hand-pick "proven fruiters."
Perkins, OK (PRWEB) March 14, 2017
Shiitake Mama, aka Sandra Williams of Lost Creek Mushroom Farm, awaits the equinox eagerly, knowing that Lost Creek's shiitake logs will yield thousands of mushrooms. She knows, too, that people who own shiitake log kits will see one of the biggest "fruitings" of the year between mid-March and mid-April.
"The shiitakes have been storing up food and energy all winter. They thrive at the equinox, with equal light and dark. Temperatures are ideal, 70s during the day and 50s at night. Let the rains come, and you have shiitakes bursting through the bark."
She suggested, "If you already have a shiitake log set it outside in shade so it can do what Nature intended it to do. If you don't already have a log, get one now so it'll be in place and ready to fruit when the conditions are right."
Lost Creek Mushroom Farm Shiitake Mama log kits can grow organic shiitakes about every two months for 3-5 years. The mushrooms grow indoors like plants in summer and winter and can grow outside in spring and fall in the shade. They need regular soaking in non-chlorinated water. "Shocking" the log in non-chlorinated ice water starts the mushrooms growing.
"Now is the optimum time to grow and eat shiitakes." according to Shiitake Mama. "We are naturally attracted to shiitakes because our bodies crave their nutritional support in the spring. The mushrooms clear out the toxins and sluggishness built up during the winter. Shiitakes stimulate the immune system, they're high in protein and low in fat, and they have a mood-brightening effect on us. Research has shown that they can reduce oxidative stress, lower cholesterol and regulate blood pressure. Shiitakes are a major medicinal mushroom."
Shiitake Mama sells a variety of kits, ranging from $20-$90. "Everyone who wants to grow mushrooms can, with a size and price they like."
Kits include a hardwood log, such as oak or gum, ready to grow mushrooms, recipes, and plenty of instructions. Logs10 inches and over are fully guaranteed to grow shiitakes.
"Lost Creek Mushroom Farm is the only company that guarantees their logs will fruit. We provide strong customer support. We hand pick every log and choose what we call proven fruiters -- logs that have already grown mushrooms." It takes 8 months to a year for a log to fruit, and it yields only a few mushrooms at first. The shiitake keeps growing inside the log and puts on more mushrooms each time for about 2-3 years, then tapers off. "When they have enough water, the shiitakes can't help it -- they have to make mushrooms when conditions are right."
Shiitake Mama has a second unique offering: Kits with two logs. Alternating the producing log provides a harvest every month instead of every two months. The Shiitake Ma & Pa Kit has two 10-inch logs. The Best Buy has two 14-inch logs with their own soaking trays for soaking, fruiting, and storing the logs. "Both are more economical and more fun to grow."
Buy Lost Creek Mushroom Farm's Shiitake Mama log kits at http://www.shiitakemushroomlog.com or Amazon.com or order by phone at 1-800-792-0053.
Shiitake Mama donates a portion of sales to Mushrooms for Well Being Foundation to build a spawn (mushroom seed material) laboratory in Ghana, West Africa. She and her husband Doug Williams have been volunteering there and working to improve mushroom production and products for small-scale mushroom farmers, most of them women, since 2007.