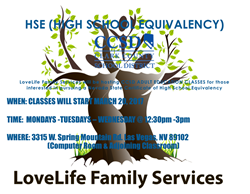 These new classes will help students to achieve a personal goal, become more independent and self-sufficient, enabling them to better support themselves and their families, Funches
Las Vegas, NV (PRWEB) March 14, 2017
LoveLife Family Services (LLFS), a mental and behavioral health services provider, is continuing its mission to help the Las Vegas community by hosting two classes for teens and adults who want to improve their daily lives. The classes, which will begin March 20, will focus on educational curriculum that can help LLFS clients and the general public reach their personal goals.
LLFS is offering Clark County School District adult education classes for those interested in pursuing Nevada State Certificate of High School Equivalency (HSE) and English Language Learners (ELL) courses. The classes, which are offered at no charge to Nevada Residence, will be led by licensed and experienced teachers. The classes range from one to three hours for up to three days per week. All of the classes will be held at the LLFS main office at 3315 W. Spring Mountain Road, Las Vegas, Nevada 89102.
"LLFS is always looking for opportunities to create a sustainable impact on the lives of our clients and the community in need," said LLFS President Clevonne Funches. "These new classes will help students to achieve a personal goal, become more independent and self-sufficient, enabling them to better support themselves and their families," Funches added.
In February, LLFS completed implementation of multiple amenities and features at its 25,000-square-foot office, including an exercise room, a game room, computer room, and a laundry room, among several other amenities. LLFS also provides clients with a full breakfast and lunch five days a week at its office. The company is focused on creating space for young clients and children to foster a healthy learning environment. LLFS also offers a youth program for clients from 5 to 18 years of age. Teenagers who are 18 and over are transitioned into the adult program.
LLFS is an approved provider of Medicaid that offers services to clients from ages 5 to 100. All services are free to qualified applicants. The company offers many key services, including individual counseling and family therapy, basic skills training, clinical outpatient, transportation, free grooming and several additional services. LLFS welcomes all Medicaid applicants to apply for assistance.
For more information about LLFS' upcoming classes and events, call 702-754-3484 or visit https://www.llfs.net/events.
Stay connected and follow LLFS on social media at Facebook https://www.facebook.com/lovelifefamilyservices/ and Twitter @LLFSLasVegas
For Media Inquiries and Interviews please contact YM & Associates PR | Marketing | Branding at YMoralesY(at)YM-PR(dot)com or call 949-244-9769.
Yvette Morales
YM & Associates
PR | Marketing | Branding
California | New York
Phone: 949.244.9769
Email: YMoralesY(at)YM-PR(dot)com