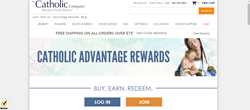 The 360-degree loyalty rewards program from Zinrelo was the perfect solution. It integrated seamlessly with our existing site and is already delivering the results that we were looking for. - Jessica Pankus, Director of Marketing at The Catholic Company
Sunnyvale, CA (PRWEB) March 15, 2017
Zinrelo's modern day loyalty rewards program is enabling leading Catholic products retailer The Catholic Company to convert its site visitors into repeat, loyal customers.
With the launch of the 'Catholic Advantage Rewards Program', The Catholic Company has seen a 25% higher Average Order Value (AOV) for loyalty members. In addition, repeat purchase frequency for loyalty program users has jumped by an impressive 65%. As a result, the revenue per customer rate for loyalty members is twice as high as that of non-loyalty users.
The 'Catholic Advantage Rewards Program' delivers enhanced customer retention by rewarding customers with 10 points for every $1 that they spend. Points can be redeemed to pay for future purchases. Loyalty rewards program users can redeem some or all of their points in exchange for a Catholic Company gift card. Customers are encouraged to engage with the program on the Catholic Company homepage, as well as a dedicated landing page that explains the loyalty rewards program benefits and rewards in detail.
"The Zinrelo loyalty rewards program has been quick to deliver results," stated Jessica Pankus, Director of Marketing at The Catholic Company. "We wanted a solution that rewarded our loyal customers with a goal to increase average order value and repeat purchase frequency. The easy-to-implement, 360-degree loyalty rewards program from Zinrelo was the perfect solution. It integrated seamlessly with our existing site and is already delivering the results that we were looking for."
Zinrelo's program has been designed as a customizable solution that companies can use to maximize customer engagement, retention and revenue without needing to undertake complex integration work. The 360-degree loyalty rewards program enables businesses to offer their customers rewards for not just purchases, but also for referrals, email signups, photo sharing, social advocacy, reviews, and more. The Omni-channel program supports desktop, mobile (web and app), and in-store (point of sale) use. The reward activities, loyalty tiers and redemption options are fully customizable. On an average, the loyalty rewards program generates 2.4x more per-customer revenue, and an 80% increase in repeat sales frequency.
"We provide our clients with a modern-day loyalty rewards program that is simple to use, and yet highly effective," commented Samir Palnitkar, Founder at Zinrelo. "As The Catholic Company discovered, our full service loyalty rewards platform delivers a great return on investment. It's a solution where everyone wins – both the client and their customers enjoy the rewards."
About The Catholic Company:
The Catholic Company provides essential Catholic books and gifts including Bibles, Catechisms, rosaries, crucifixes, DVDs, jewelry, and more to customers worldwide. It is known for its selection of high quality products, quick delivery, and customer service. Since it began selling Catholic products online in 2001, the company has expanded to one of the most comprehensive collections of Catholic books and gifts available in any one store.
About Zinrelo:
Zinrelo brings you the world's best loyalty rewards and referral programs, helping to maximize revenue per customer and new customer acquisition through 360-degree customer engagement. It supports omni-channel interactions including desktop web, mobile web, mobile apps and in-store engagements.
Zinrelo loyalty rewards program boosts per-customer revenue by 2.4 times and repeat purchases by 80%. It creates fiercely loyal customers that are rewarded for all forms of engagements including purchases, social advocacy, reviews, sign-ups, referrals, photo sharing and more. It is fully customizable and is easy to deploy. Zinrelo referral program delivers a 25% uplift in new customer acquisition by converting your customers into brand ambassadors.
To zing your loyalty and referral programs, contact Zinrelo at http://www.zinrelo.com or info(at)zinrelo(dot)com