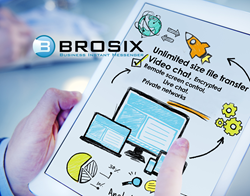 Brosix Instant Messenger for business says Private IM Networks will Help Companies Securely Communicate in 2017.
(PRWEB) March 16, 2017
Led by CEO Stefan Chekanov, Brosix Instant Messenger has long been a proponent of secure communication.
While email and text messaging continue to be popular forms of business communication, both of these leave the door open for security concerns.
Chekanov has this to say about secure communication in 2017:
"With so many data breaches hitting big companies last year, it's imperative for organizations of all sizes, regardless of industry, to focus on safety and security this year."
Brosix continues to be a leader in the secure enterprise instant messaging space, using the following features (among others) to allow users to communicate safely:

The use of state of the art, secured data centers that meet the highest security standards.
In the event that a user activity log is enabled, the data is stored on a secure dedicated server.
"We worry about safety and security so our customers don't have to," added Chekanov. "With each passing year, we implement new security messaging features to ensure that we keep up with the times."
Although the first couple months of 2017 are in the books, the year is still young. For this reason, companies of all sizes should consider implementing a secure private IM network to improve communication.
You can learn more about Brosix and its security offers on the company's official website.