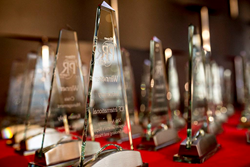 "The winners of this prestigious award are viewed as the best in the PR & marketing agency sector by the industry."
(PRWEB) March 15, 2017
PR News' Agency Elite Awards recognizes the best in the PR & marketing agency sector, honoring the top campaigns (both in internal and external) and the individuals and teams that make them happen. PR News has extended the submission deadline and is now accepting entries through March 17 at 11:59 p.m. ET
For more information on the Agency Elite Awards, visit http://www.prnewsonline.com/Agency-Elite-2017.
The Agency Elite Awards are divided into campaign and people categories. Agencies worldwide, of all sizes are eligible to enter. Non-agency organizations can nominate or enter on behalf of an agency.
Winners and honorable mentions will be awarded in the following:
Agency "Awe" Professional of the Year
Agency Team of the Year
Client Campaigns :
-Advocacy
-Branding
-Business to Business
-Cause/CSR
-Community Relations
-Consumer Marketing
-Content Marketing
-Crisis Management
-Digital/Social Media
-Financial Communications
-Marketing Communications
-Marketing to Youth
-Marketing to Women
-Measurement/Evaluation
-Media Relations
-Media Training
-Multicultural Marketing
-Nonprofit/Association
-Public Affairs
-Product Launch
-Publicity
-Reputation Management
-Search Engine Optimization
-Word of Mouth/Viral
-Writing/Editing
Internal and Promotional Categories:
-Best Training/Education Program
-Community Relations/Volunteer Programs
-Diversity Initiatives
-Internal Communications
-Proprietary Software/Client Solutions
-Promotion of Firms (marketing, advertising, PR)
-Website
For more information, visit http://www.prnewsonline.com/Agency-Elite-2017.
For questions regarding the Agency Elite Awards, contact Jessica Placencia at jessica(at)accessintel(dot)com. For sponsorship and exhibit information, contact Jonathan Politte at jpolitte(at)accessintel(dot)com.
The PR News Group at Access Intelligence, LLC is a go-to source that serves the communications and marketing community at corporations, agencies and nonprofits. With the launch of its weekly newsletter over 70 years ago, PR News has remained dedicated to supporting the growth of communicators all while keeping them abreast of the latest news affecting the industry. For more information, please visit http://www.prnewsonline.com.
###