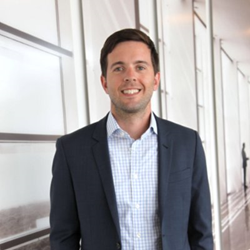 I am excited to be in the private sector continuing the fight to bring impactful technology into the federal space.
Washington, D.C. (PRWEB) March 16, 2017
If government agencies took advantage of private sector technology, they could provide better services to citizens and make better use of our tax dollars, especially in times of downward budget pressure. However, these technology companies struggle to successfully access the government market. Andrew McMahon, the former Senior Advisor for Technology at General Services Administration (GSA) understands this issue and is determined to help solve the problem.
Dcode42, a government-focused IT accelerator program, announced that Andrew McMahon has joined Dcode42's leadership team. Andrew previously served as an Obama Administration political appointee at GSA, where he focused on finding new strategies and policies to help technology companies work more easily with the federal government.
"Andrew is a phenomenal addition to the team, bringing a deep knowledge and understanding of technology, innovation, and procurement in the federal government. While at GSA, he was instrumental in identifying, recruiting, and advising technology companies to work with the government," said Dcode42 Founder and CEO Meagan Metzger. "He will add value from day one because he is truly passionate about getting government access to transformative technologies."
In his role as Senior Advisor for Technology, Andrew provided valuable support to GSA's technology mission by directing technology policy, digital government, and innovation. His team led early development of the Technology Transformation Service for GSA. During his time at GSA, Andrew was also pivotal to the founding and growth of 18F, a digital technology delivery team.
Andrew is based in San Francisco and is joining the Dcode42 executive team. He will have responsibility for the development and execution of strategic partnerships and tech scouting strategies. "Dcode42's accelerator program is exactly the type of solution the federal government needs, and I am excited to be in the private sector continuing the fight to bring impactful technology into the federal space." Andrew said. "There are great projects in the works, such as our Artificial Intelligence and Machine Learning cohort with Amazon Web Services, and I am happy to be joining a team with such great momentum."
A native of the Washington, D.C. area, Andrew is an alumnus of Boston College and the University of Chicago. He and his wife live in San Francisco with their young son.
About Dcode42
Dcode42's mission is to accelerate innovation in the federal government by providing technology companies, of all sizes, with the skills and resources they need to successfully enter the federal space. The selective program helps innovative companies bring their cutting-edge technology into the government by making it faster, easier and less costly to enter the market and succeed over the long term. With expert guidance and access to a vast array of vital resources, program participants break through barriers to gain entry to the $80 billion IT budget of the US government, the largest consumer of products and services in the world.