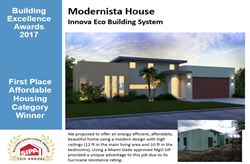 Jerry Gillman, CEO of Innova indicated that using the Innova system on high rise construction is a real game changer.
(PRWEB) March 16, 2017
Innova Eco Building System received the 2017 SIPA Building Excellence Award for Affordable Housing at the 15th Annual Structural Insulated Panel Association (SIPA) Awards Ceremony held this year in Lost Pines Texas. Innova, a Miami Florida manufacturer of magnesium cement skinned structural insulated panels also won the 2016 affordable housing award using its patented MGO panels. This year's first place award was won with the Modernista House, a home constructed for the City of Pompano Beach, Office of Housing and Urban Development. The home is the first of two more to be constructed at the same property. The developer of the project is Capital Group Green Developments. With dramatic 12 foot ceilings, this energy-efficient home exemplifies an energy-efficient modern design made possible with SIPs. Miami-Dade County NOA approved magnesium oxide skinned SIPs provided a unique advantage to this job due to its 180-mph hurricane resistance while also providing R38 and R50 ratings for the exterior wall and roof systems. MGO SIPs also eliminate the need for drywall and additional exterior finishing, further reducing the time and cost of construction. A liquid applied roofing system by Sherwin Williams was applied directly to the MGO roof panels. The resulting buildings are durable, healthy and comfortable.
Magnesium Cement Skin SIPs are an excellent product for Florida's hurricane prone environment. InnovaPanels© are tested for wind loads over 200 mph. The MGO cement skins are fire resistant, do not rot, mold and are not affected by termites. InnovaPanels© are used as a load bearing block, wood or steel frame replacement for building structures up to 5 stories. On high rise projects, the panels are used as an in-fill non load bearing insulated building skin. The panels are approximately 60% lighter than common masonry block and concrete and provide superior insulation to these products. Jerry Gillman, CEO of Innova indicated that using the Innova system on high rise construction is a real game changer. The reduction of weight results in thinner slabs, transfer beams and smaller foundations which save builders time and money while increasing the overall performance of the building. The light weight MGO panels can also increase seismic performance of most buildings. "We truly believe that our MGO SIP system is the energy efficient building material of the future".
In addition to the affordable housing award, Innova also received runner up awards for the single family home over 3000 square feet division and the Renovations Division.
Innova manufactures its energy efficient building panels in Miami Florida and ships them throughout the USA, Caribbean Islands and South America.
About SIPA:
The Structural Insulated Panel Association (SIPA) is a non-profit association dedicated to increasing the use and acceptance of structural insulated panels (SIPs) in green, high-performance building by providing an industry forum for promotion, communication, education, quality assurance, and technical and marketing research. SIPs are a high performance, panelized building system that offers superior thermal performance, air tightness, and durability for energy-efficient homes and commercial buildings. SIPs are an enabling technology to meet to the Architecture 2030 Challenge for net-zero carbon neutral buildings today.
Learn more at http://www.sips.org.