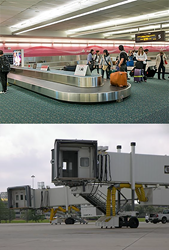 Mount Dora, FL (PRWEB) March 22, 2017
JSM & Associates (JSM) was selected from six prominent BHS Operations & Maintenance (O&M) firms through Greater Orlando Aviation Authority's (GOAA) new procurement process: Invitation To Negotiate (ITN).
ITN employs a more modern and fair approach to select the most qualified firm. It's based predominantly on the qualifications and the competence of the firm. After proposal qualifications are submitted and evaluated, the top firms are selected for an interview and a presentation is given and evaluated by GOAA.
After a competitive process, JSM was approved for the up to 9-year O&M contract by the Greater Orlando Aviation Authority Board.
"This O&M contract was the first time an ITN approach was implemented by GOAA to evaluate firms for O&M services procurement and we are pleased with the process and results", said Denise Schneider, Assistant Director Purchasing and Material Control for GOAA.
Orlando International Airport (MCO) serves more than 42 million passengers arriving and departing annually, with passenger counts up 10% from last year. JSM will be assuming management of the O&M service duties for the vast amount of equipment used in supporting MCO passenger growth. This includes:

93 Passenger Boarding Bridges
93 Ground Power Units and Pre-Conditioned Air Units
Over 4,500 Baggage Handling System assets
The prestigious contract also includes all labor, supervision, management oversight, training, materials, tools, equipment, reports, consumables, uniforms and all other items and services necessary to performing 24 hours per day / 7 days per week operation.
"We are extremely proud to have been selected on our qualifications through the ITN procurement process for this exciting and colossal O&M service contract. We look forward to continuing our successful relationship with GOAA and its partners", said John Majewski, owner of JSM & Associates.
About JSM:
JSM is a premier Central Florida based BHS Design, Consultant and BHS, PBB and GSE operations, maintenance and repair service provider. Based on a long and successful history in the aviation community, our experience comes from its management team's more than 200 years of combined engagement in the design, manufacturing, engineering, installation, commissioning, operation and maintenance of BHS, PBB and GSE for airports around the world.
(http://www.jsmandassociates.com)
About MCO:
MCO, serves more than 42 million passengers annually, of which over 13 percent are international. MCO is the second busiest airport in Florida and has more than 18,000 badged employees and generates over $31 billion in direct and indirect revenue for the regional economy. (http://www.orlandoairports.net)