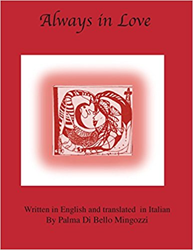 Poems written for the heart and for lovers everywhere
Staten Island, New York (PRWEB) March 14, 2017
ALWAYS IN LOVE is a collection about love for lovers. With expansive sensuality, Palma Mingozzi brings us poetry about LOVE like you've never experienced--its relations and every day meaning for our lives. This volume of larger than life Dual language English-Italian love poems will refresh the heart and enervate the soul of every person.
POARTRY is the marriage of poetry and art. With a theme of self love, self empowerment and self worth for women, June Palo's poems are inspirational and encourage believing that every woman should feel beautiful. Women must constantly reinvent themselves as they live through each stage of their lives. The striking visual images in this collection are an example of their beauty, their differences and their achievements. POARTRY inspires women to believe in themselves.
Boulevard Books is an educational publishing company for the 21st century. Founded in 2010 by Avi Gvili, it aims to bring the best writers across the globe to a greater audience while empowering authors with ownership of their work.