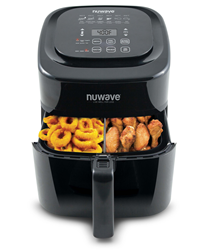 Chicago, IL (PRWEB) March 15, 2017
NuWave LLC., a leading brand in modern kitchen appliances, is all set to reveal its new product line at the IHA 2017 Show in Chicago this month. Along with the latest versions of its flagship product, the smart countertop oven, NuWave Pro Plus, it will also feature new air fryers, pressure cookers, and eco-friendly cookware.
A sneak peek:
NuWave Air Fryers – The new digital air fryers will be available in sizes 6 QT and 10 QT along with the latest version of the 3 QT Brio. It is, in fact, the Brio's phenomenal success within a year of its launch and increasing customer demands for larger capacities, that led to the launch of the newer versions. With the new lineup, which will be available at retail stores later this year, the digital air fryer range from NuWave will be the largest in the industry.
Other products in the line-up will include:

Slow juicer – The specially designed auger helps produce more fresh juice at a low 48 RPM, ensuring less oxidation while retaining essential vitamins and enzymes.
Induction Cooktops – All popular NuWave PIC models (Flex, Double, Gold) will be on display.
Electric Wok – The induction-ready wok will offer a whole new way to cook - fast, healthy and easy.
The 16-inch Electric Skillet – A larger version of the popular skillet from NuWave, this will offer precise temperature control for better cooking results.
Rice cookers – 2 versions of the cooker will be displayed - a 700-watt, 20-cup model which includes 10 preset functions as well as a 1000-watt, 24-cup model which includes 16 preset functions.
Duralon Ceramic Cookware – Introducing the new line of Forged Cookware with titanium and diamond infused ceramic coating, offering the ultimate non-stick cooking surface. Free from toxic chemicals like PFOA, PTFE, lead or cadmium they are eco-friendly and healthy.
Pressure cooker – The new 8QT and 13 QT Pressure Cookers are to be displayed along with the popular 6QT NuWave Nutri-Pot Electric Pressure Cooker.
Others - The NuWave Coffeemaker, NuWave Duralon Grill Pan, and the NuWave Duralon Everyday Pan.
"We are very excited about the new line of products that we are showcasing at the IHA this year," said Keith Hamden – Senior Vice President of Sales, NuWave LLC. "At NuWave, we constantly strive to introduce innovative products that will make cooking fun, easy and healthy. Our new range of air fryers is designed to help users to enjoy fried foods without jeopardizing their health. Every product is based on our philosophy of 'Live Well For Less,' and this year we are proud to show more appliances that will help consumers do just that."
The entire line of NuWave products will be featured at McCormick Place in Chicago during the IHA 2017 Show, March 18-21. Visitors can get a first-hand look and enjoy delicious fare made by NuWave Executive Chef Michael Manno. NuWave will be located at booth number L13126.
About NuWave LLC
NuWave LLC has led the market in advanced and innovative countertop kitchen appliances. The flagship product, NuWave Oven, was launched in 2002 and quickly became the No.1 countertop oven in the world. Since then it has introduced the NuWave Precision Induction Cooktop and the NuWave non-stick cookware line, Duralon™ Cookware. The Brio is the latest in their line of innovative products which uses the advanced technology to make cooking not just fast and easy but healthy as well. For more information about the company and products, please visit http://www.nuwavenow.com/
END
###