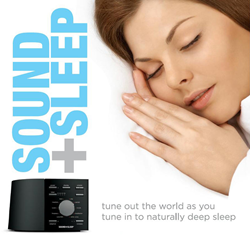 Working together with ResMed will expand availability of our best-selling Sound+Sleep devices to millions of people who struggle with falling and staying asleep," said Keith Washo, Adaptive Sound Technologies's vice president of sales and marketing
Campbell, CA (PRWEB) March 21, 2017
Adaptive Sound Technologies Inc., the leading supplier of sound machines, today announced its partnership with global sleep solution brand ResMed. The company's Sound+Sleep therapy systems will be available for purchase on ResMed's online shopping portal MySleep by ResMed.
"Working together with ResMed will expand availability of our best-selling Sound+Sleep devices to millions of people who struggle with falling and staying asleep," said Keith Washo, Adaptive Sound Technologies Inc.'s vice president of sales and marketing. "ResMed shares our vision of helping people sleep better and our partnership will further our quest to help people achieve optimal health by improving their quality and quantity of sleep."
"With a leading global position in sleep technology and proven track record of offering innovative products and solutions to improve the health and quality of life, ResMed is pleased to support the introduction of Sound+Sleep therapy systems into the MySleep products portfolio," said Marco Pellegrini, ResMed's e-commerce merchandising project manager. "Sound+Sleep devices will offer people an effective solution for improving the quality of sleep. We are excited to provide the Sound+Sleep through our web shop channel in collaboration with ASTI."
Sound+Sleep Suite
Sound+Sleep sleep therapy sound machines use specially engineered sound profiles with naturally recorded sounds like the soothing song of undersea whales or the hum of city activity and passing cars. They feature patented Adaptive Sound™ technology, which automatically responds to the environment to neutralize unwanted ambient noise.
Sound+Sleep products are available online at MySleep by ResMed for shipping into Sweden, Finland, Switzerland, UK.
About Adaptive Sound Technologies Inc.
Adaptive Sound Technologies Inc. is bringing relief to the estimated 50-70 million adults across America who need more consistent, quality sleep. Founded by industry leaders with diverse tech backgrounds, the Silicon Valley company is improving how people fall asleep with top-selling brands, Sound+Sleep and LectroFan. Learn more at http://www.soundofsleep.com.
About ResMed
ResMed Inc. (NYSE:RMD) changes lives with award-winning medical devices and cutting-edge cloud-based software applications that better diagnose, treat and manage sleep apnea, chronic obstructive pulmonary disease (COPD) and other chronic diseases. ResMed is a global leader in connected care, with almost 3 million patients remotely monitored every day. The 5,000 employees team is committed to creating the world's best tech-driven medical device company – improving quality of life and reducing the impact of chronic disease in more than 100 countries.