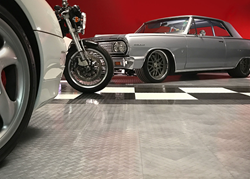 "RaceDeck is the #1 flooring for the do-it-yourself car guy. The flooring really enhances the quality and look of the cars we put on it." - Ed Capen, GoodGuys Vice President Sales & Sponsorships
Salt Lake City, Utah (PRWEB) March 17, 2017
Continuing a long-standing relationship, RaceDeck Garage Flooring has again been named the 'preferred garage floor' of the GoodGuys Rod & Custom association. The new agreement between the world's leading garage flooring manufacturer and the world's most dynamic hot rod, classic car and trick truck event organizer, honors RaceDeck as a preferred sponsor through 2018.
"The team here at RaceDeck loves being a part of the GoodGuys Rod & Custom Association; hot rods and its culture is in our blood and is what drives the continued innovation of RaceDeck Garage Floors. The people and their incredible rides are what we are all about. We're proud to be part of such a world class organization," said Jorgen Moller, CEO of Snap Lock Industries, the manufacturer of RaceDeck® garage flooring.
The RaceDeck team will be exhibiting at a majority of the twenty scheduled GoodGuys events taking place at various outdoor venues around the country. Beginning in March, the GoodGuys event line-up will culminate in November of 2017 with the 20th annual Southwest Nationals. Held at Westworld of Scottsdale, the Southwest Nationals showcases the "GoodGuys Top 12" award winning custom hot rods displayed on RaceDeck garage flooring. .
"RaceDeck is the #1 flooring for the do-it-yourself car guy. The flooring really enhances the quality and look of the cars we put on it. Goodguys uses RaceDeck in our shops and with the Goodguys Race team." – Ed Capen , GoodGuys Vice President of Sales and Sponsorships.
ABOUT RACEDECK:
RaceDeck garage floors are the perfect addition for any GoodGuys member home garage – engineered to handle high rolling loads and install easily into any working or show garage. The 14 available colors offered throughout the RaceDeck product line-up ensure happy car owners the chance to match their custom garage to their custom rides. RaceDeck is proudly made and manufactured in Salt Lake City, Utah and shipped to the coolest garages worldwide.
ABOUT GOODGUYS:
Founded by hot rodder Gary Meadors in 1983, Goodguys has grown into the world's largest hot rod association with over 100,000 members. Members and non-members alike enjoy the GoodGuys events which feature thousands of hot rods and customs, trucks, muscle cars and classics. Each event will attract anywhere from 40,000 to 100,000 auto enthusiasts to various speedways, stadiums, and fairgrounds.