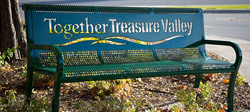 They are a great place to sit and have quality conversation and really get to know your neighbors.
Chattanooga, TN (PRWEB) March 15, 2017
The "Together Treasure Valley" campaign is an initiative that began in April of last year to celebrate the Treasure Valley and all that it has to offer. Treasure Valley stretches from the lowland areas of Vale, OR to Boise, ID. With stunning views, a friendly atmosphere, and great job opportunities, this is truly something worth celebrating. 22 area businesses have come together to deliver this message and make this community an even better place.
One of the campaign's projects is 50 uniquely designed green steel benches that are imprinted with the campaign name, "Together Treasure Valley." The benches, manufactured by UltraSite a PlayCore company, located in Red Bud, IL, will provide a platform to help bring the community together. They are a place to sit and have quality conversation and really get to know your neighbors. The campaign has been accepting nominations for bench locations throughout the community and have begun distributing the benches and will continue to do so throughout the next few months.
This campaign was a huge success in 2016 awarding over $175,000 to four community projects since it first launched. They are looking for 2017 project ideas and would like to invite the community to submit their ideas at the following link: http://togethertreasurevalley.com/contact-us/
About UltraSite
UltraSite™ a PlayCore company, has been manufacturing high-quality commercial grade outdoor recreation products including a variety of Site Furnishings, Park Amenities, Picnic Tables, Park Benches, and Outdoor Fitness Equipment for over 15 years. Learn more at http://www.ultra-site.com.
About PlayCore
PlayCore helps build stronger communities around the world by advancing play through research, education, and partnerships. The company infuses this learning into its complete family of brands. PlayCore combines best in class planning and education programs with the most comprehensive array of recreation products available to create play solutions that match the unique needs of the each community they serve. Learn more at http://www.playcore.com