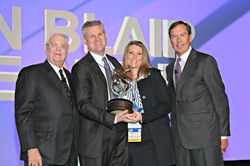 Oklahoma City, OK (PRWEB) March 14, 2017
Christi and Jason Patrick, owners of the Nashville North, TN, Express Employment Professionals office, recently received the company's top honor for extraordinary enthusiasm, positive attitude and integrity.
The Patricks were presented the 2017 Gordon Blair Heritage Award at the staffing company's annual International Leadership Conference, recently held in San Francisco.
First presented in 1994 and named after a mentor of the Express leadership team, the Gordon Blair Heritage Award is the most prestigious honor the staffing company bestows for significantly contributing to the overall development and success of Express. In order to be recognized, award recipients must demonstrate an unwavering passion for the power of service, generosity and humility.
"We are honored to present the Gordon Blair Heritage Award to such a remarkable pair of business owners," said Bob Funk, CEO and chairman of the board for Express Employment Professionals. "Through hard work and service to others, Jason and Christi Patrick have built an outstanding business. Together, they make an exceptional team with a wonderful story of success."
The Patricks opened their Express office during the Great Recession, choosing to leave behind the security of a successful corporate position. They uprooted their family and moved across the country in pursuit of their entrepreneurial dreams. In addition to earning high honors in the company's Circle of Excellence program, the Patricks possess an unwavering devotion to Nashville and their community.
"Success is second nature for the Patricks," Funk said. "They set benchmarks and exceed them with every opportunity. We are proud to call them part of the Express family."
Express is committed to the vision of helping as many people as possible find good jobs by helping as many clients as possible find good people. With its international headquarters based in Oklahoma City, Express has nearly 780 franchises in the U.S., Canada and South Africa.
Offices offer a full range of employment solutions, including evaluation hire, temporary staffing, professional search and human resources. Express focuses on a wide range of positions, including professional, commercial and administrative.
###
About Express Employment Professionals
Express Employment Professionals puts people to work. It generated $3.05 billion in sales and employed a record 510,000 people in 2016. Its long-term goal is to put a million people to work annually. For more information, visit ExpressPros.com.
For More Information:
Sheena Karami
Director of Corporate Communications and PR
Express Employment Professionals
(405) 840-5000
Sheena.Karami(at)expresspros(dot)com