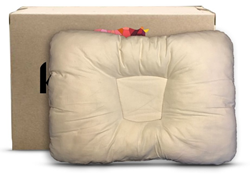 "You only get one body. There are no replacement parts. Caring for your spine is a critical component for anyone who wants better health."
Brisbane, Australia (PRWEB) March 14, 2017
Killapilla, the world's healthiest pillow is promising to revolutionize the way the world sleeps with healthy and natural sleep. Killapilla is live on Kickstarter and raising funds to bring the project to life.
The Killapilla is a breakthrough in sleep science that promises to end sleepless nights by giving customers the best sleep of their life. The Killapilla is spinally supportive allowing for correct positioning of the head and neck during sleep. It is constructed of natural wool and organic cotton—we're convinced it is the world's healthiest, most comfortable pillow that is also ergonomically correct.
"Seeing so many people struggling through life. Lacking the vitality and strength that they should be experiencing, led us to the decision that we wanted to make a difference. But what one thing could we do to make a BIG DIFFERENCE?," wondered co-founder's Dr. Todd Gignac and his wife Carolina. "When we started thinking about people spending 1/3 of their life sleeping, we knew that a spinally correct, contoured, non-toxic pillow constructed from natural materials and not outgassing from PetroChemical-based materials (such as polyfill and memory foam) would make a BIG DIFFERENCE."
The problem will other pillows, many of which give promises for better comfort & sleep, is that they lack either functionality, non-toxic construction, or both. The Killapilla meets both of those, while also supporting local industry and craftsmanship.
After many months of prototyping and testing, they finally came up with a solution that worked to meet their strict criteria. The company created the technology behind the Killapilla called 'Dual Cell Technology' which allows for a dual layer pillow; consisting of 2 separate layers of wool allowing for better consistency and feel over time, as well as customizable rolls for neck support. This is then combined with a unique design that supports the neck and head in the correct position whether laying on the side or back.
The Killapilla promises to upgrade customers sleep in more ways than one. When sleeping with the Killapilla customers will experience improved sleep, better function and overall waking up feeling great. As a result of upgraded sleep and increased function, Killapilla users may discover that colors are brighter than they used to be, walking becomes skipping, thinking becomes deep and thoughtful, lost socks are found because memory improves, aching body parts are forgotten because they just don't ache anymore, breathing becomes easier, allergies and sneezing vanish, weight actually falls right of. Results may vary but the point is obvious, better sleep equals better function.
"We're making the world a healthier place by creating a pillow that is organically and ethically produced, as well as spinally correct," adds Carolina. "You only get one body. There are no replacement parts. Caring for your spine is a critical component for anyone who wants better health."
The Killapilla is currently live and available to support on Kickstarter: http://kck.st/2lNOmaf
About KILLA Industries
KILLA Industries is committed to improving the quality of your life and the lives of those you care about through quality sustainable and ethically produced products.
For more information on KILLA Industries please visit http://killapilla.com.au
###