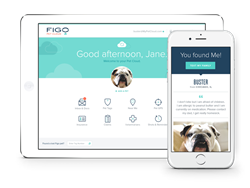 "Through our all-encompassing Figo Pet Cloud, we have created a company that is more than just insurance. We built our platform that can be carried over to other lines of insurance." -- Rusty Sproat, CEO, Figo
CHICAGO, IL (PRWEB) March 15, 2017
Join Figo CEO Rusty Sproat on March 30th at the Silicon Valley Insurance Accelerator (SVIA) Summit as he lays out his technology architecture and digital customer transformation, which is disrupting the insurance industry.
At their core, Figo is about making life easier for people and their pets. They accomplish this through their products, which are technology and pet health insurance. Born in a Google Tech Hub, Figo is an InsurTech company, whose modular approach has accelerated innovation, allowing them to serve to change customer engagement needs by leveraging the newest technologies agilely. As one of the top 35 tech startups in the world, they were featured in 2016 at Dreamforce Startup Valley.
"Insurance is behind the times, and technology is changing our industry at a faster pace than it did with Fintech. We're super excited to be part of the disruptors and innovators that are redefining how we perceive and engage with insurance," said Sproat.
For those who have never heard of the InsurTech industry, here's the crash course.
InsurTech is a growing global market made of enterprising startups like Figo, whose foundation and DNA are about digitally transforming insurance. InsurTech has often been called the "next FinTech," and consequently, investments have been pouring into these innovative companies. Last year alone, over $1.4 billion was invested in InsurTech.
"Pet insurance was complicated, expensive, and ripe for a makeover," explains Sproat. "Through our all-encompassing Figo Pet Cloud, we have created a company that is more than just insurance. We built our platform that can be carried over to other lines of insurance. This will allow us to continue our vision with more insurance products," describes Sproat.
The Figo Pet Cloud app makes it easier for owners to submit claims and view medical records. Customers can easily manage their pets' ongoing health needs as well as find local vets, pet hotels, parks, and more. Additionally, Pet Cloud features socially connecting pet parents and leverage existing API's for location based services and reviews.
To learn more about Figo Pet Insurance and how they're disrupting the industry, stop by the conference on Wednesday, March 30th at 8:45 a.m. or consider scheduling Rusty Sproat for an interview.
Sproat, a licensed property, casualty, and health insurance professional, was inspired by his loyal 11-year old Boston Terrier to dive into this brave new world.