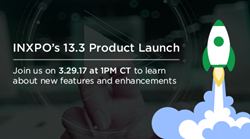 Chicago, IL (PRWEB) March 15, 2017
After much anticipation from the controlled release of INXPO STUDIO, INXPO is offering to all of its customers, their newest webcasting platform during the 13.3 Product Launch on March 29. INXPO STUDIO simplifies broadcast quality streaming and reinvents the way the industry views webcasting.
"When creating INXPO STUDIO, we wanted to keep all the successes of our XPOCAST platform and take advantage of the power of video. Many of STUDIO's enhancements involve new video capabilities that will enrich the webcasting experience for both the presenter and attendee," Rich Hawkinson, Executive Vice President of Product Dev. & Production of INXPO, said.
In the past, what would require expensive hardware or software is now simplified through INXPO STUDIO. New video features offer picture-in-picture modes, video conferencing allows for multiple presenters from different sources to speak during a webcast, and adding in pre-recorded video is easy with a click of a button. Updates to social streaming, mobile presenting and the producer tool will also be highlighted during the Product Launch webcast.
"The decline of Flash and the rise of video for communications and marketing, makes us very excited about the timing of our release of INXPO STUDIO. I think the industry is ready to see how webcasting can be pushed beyond what we are used to," Daniel Lotzof, INXPO Executive Vice President said.
For more information on our upcoming release, tune into the INXPO Product Launch webcast on March 29, at 1p.m. CT. To register for the webcast, visit http://www.inxpo.com/productlaunch.