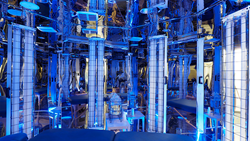 Yelm, Washington (PRWEB) March 15, 2017
The Blu Room, a new treatment combining relaxation, technology, music and Narrowband UVB light therapy (phototherapy), will be expanding to six locations in the U.S. in 2017. Three centers in Washington State will be augmented by Blu Rooms in Florida, Missouri and Utah.
Most scientists and the public agree on the benefits of relaxation. Peer-reviewed medical studies on meditation from Johns Hopkins* and UCLA* (see below) confirm the healing powers such as increased attention span, improved memory, relieving anxiety and depression, pain relief, and spurring creativity.
The Blu Room sessions, consisting of 20 minutes of deep relaxation inside a futuristic octagon bathed in blue UV-B light, uses music, tranquility and technology to produce some of the same results noted in those studies. The Blu Room is a non-invasive, non-surgical practice. It's not a tanning device, users wear regular clothing.
The Blu Room was invented in Yelm outside of Seattle by JZ Knight, the exclusive channel for Ramtha. Since the first Blu Room opened in 2015, there have been more than 30,000 user sessions provided.
The Blu Room experience varies from person to person. Many people have described it as being deeply relaxing, lifting their mood, and bringing about a state of slightly detached calm or peace. A common side benefit of this state is a relief from aches and pains. Some people experience dynamic shifts in perspective and spiritual insights. Since the mind is the greatest healer and the mind is inextricably intertwined with DNA, the Blu Room can augment a person's natural healing abilities. Some simply enjoy a break in their daily routine to refresh themselves.
Those enjoying the Blu Room include athletes, housewives, doctors, students, retired people and many active duty and military veterans.
Two veterans in the Olympia area with Post Traumatic Stress Disorder (PTSD) are regulars users. Cynthia Williams-Patnoe, a pilot who served in Afghanistan, returned home from war and was struck by a pickup truck, suffering a traumatic brain injury. She then started using the Blu Room. "The Blu Room was very peaceful and therapeutic," Williams-Patnoe says. She went 3-4 times per week, for 20 sessions. "My short-term memory was coming back thanks to the sessions."
Dale Vaughn, a Vietnam veteran, suffered from years of nightmares and was diagnosed with PTSD. He began using the Blu Room in late 2016. "It feels like I'm going to a place of peace, Vaughn says. "You feel healthy and happy."
The Department of Veterans Affairs estimated up to 30% of Vietnam Veterans have experienced PTSD in their lifetime.
There are 11 Blu Rooms in operation throughout the world in in Austria (2), Germany (2), Switzerland (3) and one each in Ecuador, Italy, Japan and in Quebec, Canada. Six more locations will open in 2017 in Aso, Japan; Bathurst, Australia; Calgary, Canada; Mexico City, Mexico; New Taipei City, Taiwan and Osaka, Japan.
There are medical studies on the benefits of Narrowband UVB light therapy such as relief from psoriasis such as "Therapy Of Psoriasis With Narrowband Ultraviolet-B Light Influences Plasma Concentrations Of MMP-2 And TIMP-2 In Patients," published in the Journal of Therapeutics and Clinical Risk Management in October, 2016.

####
About The Blu Room
The Blu Room is a patent pending technology that shields users from the outside world and wraps them in an atmosphere of soft ultraviolet light. The Blu Room is useful for anyone who wants to step out of their daily environment including children and the elderly. Users have reported a wide range of personal benefits, including: Improved health and well-being, Deepened focus, Increased creativity, Faster healing process, Greater self-awareness, Relief from physical pain and relief from mental stress and anxiety. For more information, please visit: http://www.bluroom.com.