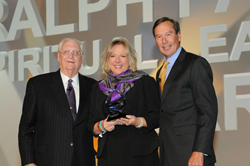 Oklahoma City, OK (PRWEB) March 14, 2017
Debbie Christian, corporate chaplain for Express Employment Professionals International Headquarters, has been named the company's 2017 recipient of the Ralph Palmen Spiritual Leadership Award.
The international award is named in honor of the late Ralph Palmen, who made a tremendous impact on the growth and development of Express through his leadership and spiritual guidance. The award honors an individual who inspires others and always does the right thing.
"Debbie has a sincere passion for the spiritual well-being of our employees," said Bob Funk, CEO and chairman of the board for Express. "She consistently puts the needs of others above her own, and her famous smile is contagious."
Christian joined the company's international headquarters in 1998. Before becoming the corporate chaplain in 2013, she served on the events team and in the company's assistance center.
In her role, Christian spends countless hours at the hospital comforting those who have experienced loss or sickness. As corporate chaplain, she also leads office Bible studies, book clubs, and lunch and learn programs.
"When you are around Debbie, you feel like the most important person in the world. She is an exceptional listener with a genuine servant's heart," Funk said.
Express Employment Professionals offers a full range of employment solutions, including evaluation hire, temporary staffing, professional search and human resources. Express is committed to the vision of helping as many people as possible find good jobs by helping as many clients as possible find good people. With its international headquarters based in Oklahoma City, Express has more than 780 franchises in the U.S., Canada and South Africa.
###
About Express Employment Professionals
Express Employment Professionals puts people to work. It generated $3.05 billion in sales and employed a record 510,000 people in 2016. Its long-term goal is to put a million people to work annually. For more information, visit ExpressPros.com.
For More Information:
Sheena Karami
Director of Corporate Communications and PR
Express Employment Professionals
(405) 840-5000
Sheena.Karami(at)expresspros(dot)com