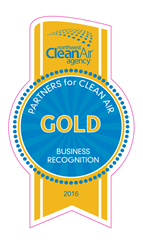 These sorts of accomplishments energize and solidify the connections with our community and consumers.
Ferndale, WA (PRWEB) March 15, 2017
Washington-based Healthy Pet, an innovative leader in sustainable pet products, has been awarded the 2016 Northwest Clean Air Agency (NWCAA) Gold Award for demonstrating at least three consecutive years of perfect compliance with air quality regulations and employing additional clean air practices. Out of more than 400 businesses registered with NWCAA, Healthy Pet is one of only nine to earn the Gold award.
"We are honored to be recognized once again for our environmental efforts by the NWCAA. These sorts of accomplishments energize and solidify the connections with our community and consumers. They also set, or reset, the bar of excellence that we strive for across all departments. Healthy Pet continually focuses on green technologies and commitment to green programs as well as producing sustainable products," states Ted Mischaikov, CEO. "The NWCAA Gold Award is testimony to our continued work in reducing our carbon footprint. I am very proud of the entire Healthy Pet organization for continuing to pioneer new ways to support a healthier planet."
The 2016 NWCAA Gold Award was based not only on Healthy Pet's 3+ year rigorous compliance with NWCAA regulations, but also achievements in all facets of operations from a 'zero waste' perspective such as:
Energy efficiency

Replaced 100 percent of plant, warehouse, office, and external lighting with energy-efficient LED lighting.
Emissions reductions

Partnered with a Canadian supplier to divert 330 metric tons of the supplier's material into a saleable commercial product for Healthy Pet.
Transportation

Bought energy-efficient 2015 pickup to replace inefficient 1996 van.
Instituted more stringent recycling plan to reduce hauling a 30-yard garbage dumpster from 4 times a year to 2 times a year.
As a founding member of the Pet Industry Sustainability Coalition (PISC), Healthy Pet supports sustainable, natural pet product solutions, creating a more ecologically beneficial environment and an enriched relationship between pets and their family. For more information about Healthy Pet, its commitment to corporate excellence through sustainability, please visit http://www.Healthy-Pet.com.
About the Northwest Clean Air Agency
The Northwest Clean Air Agency is responsible for enforcing federal, state, and local air quality regulations in Island, Skagit, and Whatcom counties. In addition to permitting and regulating industrial sources of air pollution, the agency offers information and services related to asbestos, climate change, indoor air quality, outdoor burning, woodstoves, and fireplaces. More information about the agency is available at http://www.nwcleanair.org.