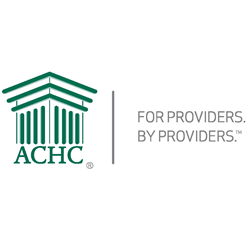 "We believe that ACHC DMEPOS Accreditation allows SCMESA members to demonstrate their commitment to providing quality health care services as well as regulatory compliance." - Matt Hughes, ACHC Director
Cary, NC (PRWEB) March 16, 2017
Accreditation Commission for Health Care (ACHC) is pleased to announce the renewal of its partnership with South Carolina Medical Equipment Services Association (SCMESA). This agreement allows SCMESA members to receive significant discounts and savings on ACHC accreditation programs as well as discounts on Accreditation University (AU) educational resources that help prepare SCMESA members for ACHC Accreditation.
"SCMESA is a valued state partner in the DMEPOS industry," said Matt Hughes, ACHC Director, Business Management & Customer Service. "We believe that ACHC DMEPOS Accreditation allows SCMESA members to demonstrate their commitment to providing quality health care services as well as regulatory compliance."
"Our partnership with ACHC is an important way SCMESA supports member goals of keeping their businesses compliant and competitive," said Bobby Horton, Executive Director of SCMESA. "We are pleased to continue the relationship."
ACHC is a non-profit accreditation organization that has stood as a symbol of quality and excellence since 1986. The organization has CMS Deeming Authority for Home Health, Hospice, and DMEPOS and a Quality Management System that is certified to ISO 9001:2008. ACHC is the provider's choice for accreditation because of its personal Accreditation Advisors, relevant and realistic standards, competitive pricing, and a friendly, consultative approach to accreditation. Accreditation by ACHC reflects an organization's dedication and commitment to meeting standards that facilitate a higher level of performance and patient care.
For more information on ACHC accreditation programs, or to download ACHC Accreditation Standards, please visit http://www.achc.org or contact customerservice(at)achc(dot)org or (855) 937-2242.
About South Carolina Medical Equipment Services Association
The South Carolina Medical Equipment Services Association is composed of providers of home health care including durable medical equipment and services. The association was established in 1987 to provide a mechanism for communication, planning, education, and research in matters relevant to home health care needs. The objective is to improve the health of citizens of South Carolina by providing high-quality home health care and to enhance economic security of the HME industry in South Carolina. This mission is accomplished through frequent seminars, newsletters, legislative activities, and Medicaid and Medicare Advisory Committee activities.
To learn more about SCMESA, visit http://www.scmesa.com.