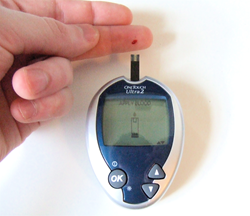 The connection with type 2 diabetes....is not the only indication that oral health is connected to potentially life-threatening systemic problems
Beverly Hills, CA (PRWEB) March 23, 2017
A March 13 article on Daily Star points out that recent research is further establishing the appearance of periodontitis (gum disease) as a possible warning sign of type 2 diabetes. Dr. Peiman Soleymani of the Beverly Hills Periodontics & Dental Implant Center notes that the recent research is underlining the already very clear connections between good oral health and a patient's overall systemic health. Specifically, the noted periodontist and dental specialist says that the connection with type 2 diabetes – a common ailment associated with a number of causes that greatly increases the risk for heart attacks, strokes, kidney failure, and numerous other life threatening conditions – is not the only indication that oral health is connected to potentially life-threatening systemic problems. Other issues, he notes, include:

Heart Disease. Dr. Soleymani states that, while the exact causes have yet to be pinpointed, there is a clear association between periodontal problems and certain types of heart disease. He does add, however, some researchers believe that inflammation associated with gum disease may be at the root of the connection.
Strokes. While type 2 diabetes is a definite risk factor for strokes, Dr. Soleymani also points out that studies indicate a relationship between gum disease and strokes that may possibly be present even in patients who do not have diabetes.
Bone loss and osteoporosis. If periodontal disease is allowed to go too far, then the loss of teeth is one all too common result, says Dr. Soleymani. Apart from such risks as poor nutrition and a loss of confidence in social situations that can result from missing teeth, bone loss in the jaw can actually increase the chances of more teeth being lost, with more bone loss to follow. Dr. Soleymani notes that replacing missing teeth with dental implants in Beverly Hills at his offices has helped a great many of his patients to have teeth that look and perform just like real teeth and while also preventing further bone loss.
Cancer. Dr. Soleymani also notes that, according to the American Academy of Periodontology, there is evidence to indicate that male patients with gum diseases may be significantly more prone to develop kidney, pancreatic, and blood cancers.
Dr. Soleymani concludes by noting that, when you combine the possible serious health risks of periodontal disease with its numerous more immediate unpleasant impacts, including bad breath, pain, and the possible threat of tooth loss, it simply makes sense to keep a very close watch on the health of your teeth and gums. Readers who would like to know more about their oral health are invited to call the Beverly Hills Periodontics & Dental Implant Center office at (310) 275-4606 or visit online at http://www.BHPeriodontist.com.