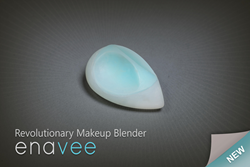 Vancouver, BC (PRWEB) March 15, 2017
New Kickstarter campaign promises to bring the most innovative makeup blender to life.
Ena Vehabovic, a female engineering graduate from the University of British Columbia and former Miss World Canada finalist, has designed an innovational new makeup blender called the "enavee."
With its unique, sponge-like texture and super soft, platinum-grade silicone, the enavee mimics the material of a sponge, while soaking up virtually no expensive foundation. It has a modern, state-of-the-art design, which includes a precision "pinch" tip that keeps bacteria-laden fingers away, while simultaneously allowing for exceptional control of the applicator.
Ena noticed that the makeup applicators on the market were either made out a sponge-like material or gel-silicone, and that each of these blenders had their pros and cons. The sponge would waste a lot of makeup, had to be thrown away in a few months, and could be very unhygienic. The gel-silicone blender solved all of these problems but when the reviews came in, users stated that it simply did not apply makeup well.
Ena took the pros of each of these blenders, and this was how the enavee came to be. Unlike the typical sponge-like beauty blender, it is easy-to-clean, long lasting, and hygienic. The enavee blender also applies makeup seamlessly, as opposed to the recently released gel-silicone blenders.
"With my background in engineering and beauty, I've always had a passion for innovation and design as well as beauty and makeup," Ena says. "I created the enavee mostly out of necessity."
As a long-time supporter of empowering women in leaders —in fact, she worked with UBC to encourage young women to pursue careers in engineering and science fields throughout her Miss World Canada campaign—Ena is hopeful that the development of the enavee can prove inspirational to other entrepreneurs.
Now, after several iterations of design and prototyping, the enavee blender has been perfected. With help from supporters, it can be injection-molded, assembled, and shipped out in its beautiful packaging.
More information about this product and campaign can be found at: https://www.kickstarter.com/projects/enavee/enavee-the-next-generation-in-makeup-blenders
About enavee:
Founded in 2017, enavee is a ground-breaking beauty company that aims to harness technological advances in order to innovate the beauty industry.
Press Contact:
Ena Vehabovic
enaveeblender(at)gmail.com