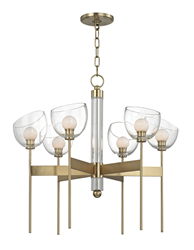 WAPPINGERS FALLS, NY (PRWEB) March 16, 2017
Hudson Valley Lighting's expansive collections includes many of the details that the brand is well known for: Statement chandeliers, exceptional pendants and a multitude of sconces, flush mount fixtures and floor and table lamps. Hudson Valley Lighting manages to gracefully update historic designs without compromise. Their use of unique materials includes crystal, iron, brass, acrylic, hand-blown glass and mixed metals all combined to dazzle. Many of the collections include the latest LED lamping, an important design factor in the new collections.
"Our new designs fill a variety of aesthetics that combine innovation with creativity," said David Littman, founder and chairman of Littman Brands. "Once more our dedication to producing light fixtures that evoke something so much more than the light they emit – has put our collections ahead of the industry. We continue to be influenced by the world of art, and are always seeking new materials and finishes to offer fresh, innovative releases."
Below is a taste and some highlights from Hudson Valley Lighting's newest collections.
Davis
Davis exhibits a handblown vessel of glass, cut on the bias for a provocative and stunning effect. Set within this outer glass is a white glass diffuser, beaming with LED-powered illuminance. Thick crystal pairs with broad bands and a finial of metal to complete Davis.
Gatsby
Three discs of Spanish alabaster with smoothly rounded edges, each incrementally wider than the one proceeding it, make Gatsby a glamorous standout. Each alabaster disc is stacked at an equal distance from the others along three metal rods, showing the influence of Danish mid-century design. Glare-free light shines down through the porous alabaster as well as seeps out from behind a glossy opal diffuser in all directions, making Gatsby an ambient triumph.
Axiom
An orb of light rests on a round mount of die-cast zinc. Axiom's mirror backplate acts as the perfect contrast to its diffuser, clear on the outside and etched on the inside for a captivating appearance when lit. Together, these three elements make Axiom an assured work of minimalist luxury.
Larissa
A long and thick arm of faceted crystal supports the shade-covered bulb in Hudson Valley Lighting's Larissa family. The faceted crystal rod is fit snugly into metal pieces in the same shape at top and bottom.
About Hudson Valley Lighting®
Since 1985, Hudson Valley Lighting® has been producing distinctive products of outstanding quality and value for residential and contract settings. From the brand's New York-based headquarters, an in-house team creates unique and original fixture designs, spanning in style from historic to artisan, transitional to contemporary. Brand hallmarks include exquisite detailing, fine finishes, hand-forged metals and strong craftsmanship. From a variety of pendants, chandeliers, sconces, bath bars and flush mounts, to portable floor and table lamps, designers, specifiers and consumers are assured of extensive, top quality options. With more than 150 collections in its catalog available throughout North America through dealers and showrooms, Hudson Valley Lighting retains an impressive library of products to suit virtually any residential, commercial or hospitality project. For more information on the brand and its products, visit: http://www.hudsonvalleylighting.com or contact: jocelyn(at)drsandassociates(dot)com. http://www.drsandassociates.com (818) 982-8210
About Littman Brands
Littman Brands is renowned for unique custom designs and high-quality lighting solutions for the residential, hospitality and contract arenas. Led by Founder and Chairman David Littman, whose family has maintained a key leadership role in lighting design for more than 85 years, Littman Brands is represented by four distinct brands: Corbett Lighting, Hudson Valley Lighting®, Troy Lighting and CSL® (Creative Systems Lighting). Each brand reflects an individual identity and specialization while maintaining the promise of uncompromising quality, expert craftsmanship and groundbreaking design. For more information about Littman Brands, contact DRS and Associates c/o David Schlocker - david(at)drsandassociates(dot)com (818) 981-8210