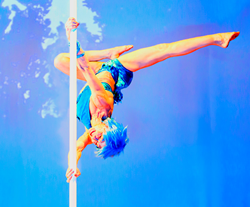 "Don't let age or any limitation keep you from passionately pursuing your dreams."
Los Angeles, Calif. (PRWEB) March 15, 2017
Greta Pontarelli, 66, won her fifth world title in aerial arts at the IPSAF World Championships in Torino, Italy, Sunday. Her artistic performance, "Finding the Magic to Make Your Soul Soar," secured her first place win in the Masters Division. Pontarelli began the art of pole dancing at 59, and was soon entering pole sports and pole art competitions internationally. At 61 she scored the first of a succession of wins in the United States and abroad, 19 wins to date, five of them world championships.
World Championship Titles held by Greta Pontarelli:

2017 IPSAF World Pole Art Champion, Masters Division, Torino, Italy
2016 Pole Art italy World Pole Art Champion, Masters Division, Milan, Italy
2014 IPSF World Pole Sports Champion, Masters Division, London, England
2013 IPC World Pole Art Masters Champion, Singapore
2013 IPSF World Pole Sports Champion, Masters Division, London, England
Senior Woman Exemplary Model of Fitness
February 2017, Pontarelli taped a show for German television in a segment showing how a number of amazing seniors are living their lives to the fullest. February 2017, Elle Magazine [US] produced a video of Pontarelli for their Movement Series https://www.facebook.com/ellemagazine/videos/10154307498376301/ affirming that age is just a number. In 2015 she performed live on The Steve Harvey Show in Chicago and discussed the value of a healthy lifestyle. She is featured in the "Age of Happiness Project" a coffee table book which features people who live brighter, more interesting and fulfilling lives as seniors. Pontarelli says, "More important than my medals is the opportunity that the stage provides to help manifest my mission to inspire others to not let age or any limitation keep them from passionately pursuing their dreams."
What is Pole Sport, Pole Art?
Pole Sport and Pole Art are combinations of gymnastics, choreography, and acrobatic tricks. The sport requires significant strength, flexibility and stamina, and employs athletic moves such as climbs, spins, and body inversions using the limbs to grip a vertical standing apparatus. Pontarelli says her best trick is to execute a deadlift handspring and go to a passé Iron-X on the pole, which demands extreme control and strong core muscles. The long term goal of Pole Sports and Pole Art is the inclusion into World Games and the Olympics.
About Pontarelli
As a teen Pontarelli competed nationally in gymnastics and was named the Pennsylvania Floor Exercise Champion. She won national awards as a martial artist in sparring and forms in 1978. Pontarelli competed twice on the TV show American Ninja Warrior and was the oldest person to ever attempt the course. She founded an international life coaching business in 1997 to enrich the lives of others and help to believe in themselves.
Pontarelli lives by the motto, Carpe Diem, seize the day. She resides in Temecula, CA, with her husband. Read more about Pontarelli at http://www.aerialzen.com, http://www.facebook.com/gretapontarelli and http://www.instagram.com/aerialzen.