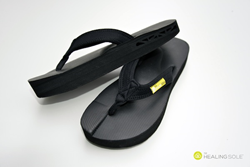 Clinical trial results in 8 out 10 people reporting an improvement in pain and/or function.
Baton Rouge, Louisiana (PRWEB) March 22, 2017
Dr. Meredith Warner, a war veteran and orthopedic surgeon in Baton Rouge, LA, has revolutionized the treatment of plantar fasciitis, which affects one-tenth of the US population. With her recent and groundbreaking invention, The Healing Sole, Warner has created a safe and alternate treatment to expensive physical therapy, painful injections, custom orthotics and risky surgery.
"The Healing Sole was designed to enable the patient to self treat in an affordable manner," says Warner, about her patent pending invention. Dr. Warner specifically chose the flip flop option for the shoe because it is the type of shoe most often requested by her patients. "People love flip flops and rarely get to wear them when they have foot pain. Putting the treatment into the form of a flip flop not only alleviates the condition, but also increases wear ability."
Although the design is simple, the bio-mechanics addressed in creating the shoe are fairly complex. Wearing the flip-flop will stretch your PF (the raised toe lift), reduce stress on your joints and pressure off the ball of foot (raised arch support), reduce pressure on your heel (compressible inner heel), allow for normal foot strike (non-compressible outer heel), and reduce muscle tension while you are in motion (the rocker bottom sole).
"Most everything else out there on the market is a very soft shoe with large arch support, which I don't think does anything for foot health long-term. This lets the body heal itself," says Dr. Warner.
While The Healing Sole is still patent pending, the clinical trial results show 8 of 10 patients reporting improvement in pain and/or function.
"The results are exactly what we expected. The shoe is doing what it is designed to do: alleviate pain and promote overall foot health," says Dr. Warner regarding the clinical trial results.
Plantar fasciitis affects 1 in 10 people and is the most common form of heel pain.
The Healing Sole can be purchased online at http://www.TheHealingSole.com. Wholesale and Media inquiries should be directed to Natalie(at)TheHealingSole(dot)com.