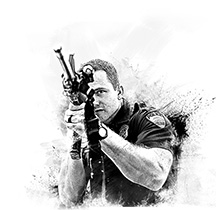 We designed the plates to stop tough threats while optimizing for comfort, usability and weight; the combination is truly unique
Fort Collins, CO (PRWEB) March 22, 2017
Angel Armor, LLC ("Angel Armor") announces their partnership with the Barbecue, Boots & Badges foundation to up armor twenty Dallas Police Officers with innovative, lightweight and life-changing ballistic plates — at no cost to the Officers or the Police Department.
"With a generous donation from the charitable arm of Dickey's Barbecue Pit, we are able to focus on our primary mission: Officer safety through relevant and revolutionary ballistic protection," Josh Richardson, Co-Founder of Angel Armor said.
The enhanced Truth SNAP™ Magnetic Plate System is new for 2017 and the Dallas Police Department is among an elite group to be the first to deploy this premier armor solution. These modular plates deliver concealable rifle threat protection in an ultra lightweight package for extended, all day use. The patented, two-piece design provides tiered threat protection from NIJ Level IIIA to NIJ Level III threats, including common rounds from 44 MAG, AK-47, 5.56 and .308.
The entire plate system weighs less than 2 pounds. "Mobility is key," Richardson said. "We designed the plates to stop tough threats while optimizing for comfort, usability and weight; the combination is truly unique."
In addition to Truth SNAP Magnetic Plate System, Angel Armor is the industry's leading provider of concealable vehicle protection with their Enlight™ Window Armor and Avail™ Ballistic Door Panels:

Enlight Window Armor — a drop-in, tool-free, clear vehicle armor panel that provides NIJ Level IIIA defense while allowing for civilian interaction.
Avail Ballistic Door Panels — designed to pair with Enlight Window Armor, Avail is the primary platform of Angel Armor's vehicle package, providing customers the security of full-door, Level IIIA coverage. New in 2017, Avail is available as an NIJ Level III door panel for select vehicles.
"The Truth SNAP plates are just the beginning," Richardson said. "We are always exploring new ways to expand our product lines, enhance Officer safety and get relevant protection into the hands of those who serve." With the support from organizations like Dickey's Barbecue Pit, it is Angel Armor's hope that this is the first of many armor donation partnerships for the men and women of Law Enforcement.
Click here to view KDFW FOX 4's coverage of this story.
Dedicated to defending life from threat, Angel Armor is a premier provider of advanced ballistic armor solutions. With innovative and proprietary products, manufactured in the U.S., Angel Armor has developed a suite of globally recognized, tested and approved ballistic armor technologies. Angel Armor's product lines range from vehicles to personal armor and feature a variety of threat levels. With these solutions, Angel Armor elevates Protection at a Higher Level™ with uncompromising and unparalleled protection worthy of those they serve.