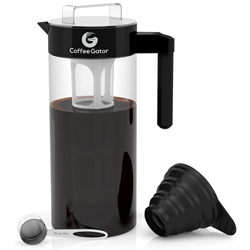 I'm incredibly proud with the brewer we came up with and most importantly, our customers are going crazy for it too.
(PRWEB) March 21, 2017
Cold brew is the latest craze to capture the imagination of coffee aficionados worldwide. Cold brew differs from iced coffee in one important way: iced coffee is made hot, then chilled. Cold brew never comes into contact with heat. The flavour is slowly extracted using cold water, a process delivering a naturally sweeter taste.
Premium home-coffee-making brand, Coffee Gator has launched a new, cold brew coffee maker kit they say will convert iced-coffee drinkers into cold brew fans.
"Cold brew is the perfect hot-weather alternative to traditional coffee. It's also far healthier than iced-coffee which is usually loaded with sugar to mask the bitterness of rapidly-chilled espresso shots," says Coffee Gator Founder, Phil Williams.
"We knew the rise in popularity of cold brew meant we'd have to come up with a brewer that was head and shoulders better than the competition in order to stand out. That's why we spent nearly six months researching, testing and trying out the results on seasoned coffee-junkies. I'm incredibly proud with the brewer we came up with and most importantly, our customers are going crazy for it too."
The Coffee Gator Cold Brewer features a carafe made from 100% BPA-free borosilicate glass that the coffee is brewed in and served from. Ground coffee is loaded into the internal filter then the whole unit goes in the refrigerator to brew. The process takes between 8 and 24 hours, depending on how strong you like your coffee.
The Coffee Gator Cold Brewer set includes:
-Collapsible latex loading funnel
-Stainless steel measuring scoop
-Free ebook: Five Essential Steps to Better Coffee
Phil says: "Our cold brew comes out naturally sweet, so many of our customers don't add any sugar at all. But after it's brewed you can sweeten it, add syrup, milk or lemon or whatever you want to tailor your brew for you."
The Coffee Gator story began after a trip to Colombia and Guatemala when founder Phil discovered there was more to coffee than instant. Coffee Gator has grown rapidly since being founded in January 2015. Phil credits the success of Coffee Gator to a combination of factors. Much like the rise in craft beer, consumers are increasingly discerning about coffee and its origins. This has driven a rise in demand for straightforward ways to brew coffee at home that compares with what you'd expect from a good barista. Coffee Gator have found success by offering innovative solutions and striving to provide the best customer service in the industry.
Part of that ethos involves connecting with their audience in a way that's unconventional but raises a smile. This is summed-up by their recent video 'Would you lick my box?' where Phil poses that question to unsuspecting members of the public on the streets of Barcelona.
"Yes, it was a weird idea, but we all like weird every now and then," says Williams. "Steve Jobs said Apple products should be beautiful enough to lick, so I wanted to find out if anyone would lick our packaging," he explains.
Watch the video to see if anyone was brave enough to take him up on the offer.
The new cold brew kit is available on Amazon right now. The RRP is $59.97, but our readers can get 15% off by using the code CGCOLDBR at checkout. There's a 100% money-back guarantee on all Coffee Gator products, promising a full, no-questions-asked, refund if there's any problem.