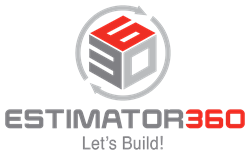 Your Dimensions, Our Estimate, Let's Build!
Winthrop, MN (PRWEB) March 16, 2017
Estimator360 is the Next Evolution in Residential Construction Estimating and Management. Industry surveys and forecasts for 2017 show that many residential contractors are still relying on manual processes and paperwork instead of embracing state-of-the-art technology. In fact, many residential construction owners still believe that as long as they have a good crew with the proper set of tools, that they have everything they need to get the job done.
That's just not the case in today's environment. It is especially challenging in the residential marketplace because this sector of construction has been largely ignored by technology solution providers…until now!
The biggest gap in technology is at the estimating/pre-construction phase and dealing with all the pain, risks and time involved to accurately manage the costs and project management requirements necessary to deliver jobs successfully while not losing money.
Unfortunately available options have been 1990's PC-based point solutions for estimating, struggling with Excel, or doing things the old fashion way, by hand. Combine that with complex, outdated construction management software and you end up with a patchwork of different software applications which don't easily integrate, and certainly do not scale for a growing construction business.
That is no longer the case with Estimator360. Just released, Estimator360 is the newest cloud-based solution from Bid4Build which brings together over 30 years of hand-on construction expertise, 20 years of proven residential software experience, and leading-edge cloud technologies.
Estimator360 is the only estimating solution in the market which combines patent-pending Divisions, Instant Assemblies, Intelligent Ratios, and Build Options. What used to take hours, if not days, can now be done in just seconds!
To remain competitive in today's marketplace, residential contractors will need to adopt innovative collaboration-enhancing technology, improve jobsite transparency and look for opportunities to increase efficiency. In fact, new research shows that construction companies which do adopt leading-edge construction estimating and management software can expect to see a 25 to 100% increase in sales, and a savings of 2+ hours per day on project management activities.
Estimator360 is the leading-edge solution which combines fast, accurate and powerful estimating with the full life-cycle of construction management. Estimator360 provides what residential contractors require including a complete and comprehensive dashboard for analytics and reporting; real-time supplier and trade partner bid management; client and project contracts/communications; automatic scheduling; mobile crew time logging and management and more.
With Estimator360's advanced technologies, information is kept safe and always accessible. Estimator360 is optimized for speed and can be accessed at any time, with any device, and anywhere in the world.
About Estimator360
Estimator360 is Bid4Build's next generation cloud estimating and construction management solution for residential contractors. Estimator360 was built by contractors for contractors and is the only cloud solution in the market which combines powerful patent-pending estimating technologies with the full suite of construction management capabilities. Bid4Build has been providing estimating solutions to contractors for over 20 years and is a leader in the residential construction marketplace.