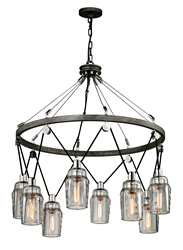 Our design team works diligently to maintain Troy's strikingly eclectic, sophisticated casual aesthetic, which which shows through in our latest offerings - all which refelect the distinctive influence of human craftsmanship. - Steve Nadell
City of Industry, CA (PRWEB) March 17, 2017
Troy Lighting unveiled four new inventive yet timeless pendants – all which fit perfectly into their existing offering of anachronistic yet modern chandeliers, pendants, sconces and flush mounts. With thoughtful experimentation, Troy merges handworked materials (like iron and opal glass) with innovation to form fixtures ideal for residential, retail, office and hospitality specifications.
"We were thrilled to debut so many new lighting families at this year's Lightovation," said Steve Nadell, president of Troy-CSL Lighting. "The design team at Troy works diligently to maintain Troy's strikingly eclectic, sophisticated casual aesthetic, which shows through in our latest offerings. These new product features robust iron and steel, glass and textiles - all which show the distinctive influence of human craftsmanship."
Troy Lighting's product offerings go beyond established classical, industrial and natural style categories while nodding to each, proving that they are not bound to a single classification but to their capacity to masterfully reinterpret a long history of design. They extract fascinating elements of style and fuse these with modern principles of innovation, acting as reasoned experimentalists.
Below are special highlights from Troy Lighting's newest collections.
Citizen
From stainless turnbuckles to thick, pressed glass shades, Citizen intertwines physics, science and machine to form functional art. Citizen's unique focal point is its pulley system with one continuous wire running through its frame, powering and suspending each light at various heights. Made of handworked iron and finished in textured graphite and polished nickel, the Citizen collection offers clean yet intricate style in an eight- or six-light pendant, five-light island, a single-light sconce and two single-light pendants, one in a classic rise and fall pulley design. A coordinating bath group is also available.
Audiophile
The nostalgic Audiophile collection manages to be retro and contemporary at the same time. The knurled details of the functional cord fasteners, hardware and light bulb socket holders are reminiscent of tuning knobs or accessories on mid- to late century high-fidelity audio equipment and guitar amps. A handworked iron frame keeps perfect tension and balance on the woven power cables that suspend each substantial clear blown-glass shade. Vintage inspired bulbs are iconic symbols of vacuum-tube amplifiers – the heartbeat of electric energy and light. The polished aluminum accents alternate with an old silver finish to create a subtle depth of detail and style in this deceptively simple pendant. Audiophile is offered in a five-light pendant, a three-light pendant, a three-light island, a single-light pendant and a single-light sconce. Over 10 feet of cable is provided to create multiple installation height options.
Kokoro
The Kokoro blends the exotic feel of Eastern influence with traditional lighting characteristics, creating a truly unique experience in illumination. Made of handworked iron – so painstakingly detailed that its basketweave texture challenges the expectations of a rigid metal material. Kokoro's tiered-shaped surround is finished in bronze and the internal candelabra lighting cluster is finished in polished brass, adding to the illusion even further.
Brewery
The Brewery pendant pays homage to the history and craft of draft brewing and the copper brewhouse equipment that was used. Troy Lighting's Brewery exhibits a reinterpretation of fermentation tank tops and stacks as the lamp shades and fixture structure. The shade and neck is constructed with handworked iron and finished in vintage patina bronze. The light source is achieved through a custom designed opal glass diffuser that is attached with a clever twist/lock mechanism. As a finishing touch, each fixture receives a Troy Lighting plaque that is subtly riveted to the neck of the shade, adding an additional element of authenticity. Brewery is offered in two size pours.
About Troy Lighting
Best known for its "sophisticated casual" aesthetic, Troy Lighting has graced the interiors and exteriors of the finest homes worldwide for 50 years and counting. Their rich catalog of products can fulfill even the most unique design inspirations, exuding quality, design and value. Troy Lighting's team of expert craftsmen create one of a kind, hand-forged lighting fixtures for the most discriminating residential and commercial clients and take great pride in engineering and inspection standards to ensure high-quality products. Their firm commitment to the environment led to the development of the Troy Lighting Environmental Series, which combines exquisite, handcrafted designs with compact fluorescent, LED, Energy Star and Dark-Sky compliant options. For more information on Troy Lighting, visit http://www.troy-lighting.com. Contact DRS and Associates (818) 981-8210 or mariel(at)drsandassociates(dot)com
About Littman Brands
Littman Brands is renowned for unique custom designs and high-quality lighting solutions for the residential, hospitality and contract arenas. Led by Founder and Chairman David Littman, whose family has maintained a key leadership role in lighting design for more than 85 years, Littman Brands is represented by four distinct brands: Corbett Lighting, Hudson Valley Lighting®, Troy Lighting and CSL® (Creative Systems Lighting). Each brand reflects an individual identity and specialization while maintaining the promise of uncompromising quality, expert craftsmanship and groundbreaking design. For more information about Littman Brands, contact DRS and Associates, David Schlocker david(at)drsandassociates(dot)com