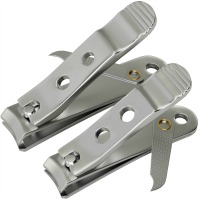 Not only was the design easier to use than any others I've had but the sharpness was wonderful.
Cary, North Carolina (PRWEB) March 19, 2017
Whole Health Supply, owners of the Kohm brand in the United States, is announcing a new product that will give buyers a double benefit. The Kohm WHS-300 is a set of two individual clippers with one set being larger than the other. They are alike in every way expect for size.
Both clippers have curved blades and are appropriate for anyone in the household. Parents may want to use the smaller clipper on children and save the larger set for adults. Or, one may choose to keep the larger pair for home use and attach the smaller pair to a keychain for use on the go. The price includes both the small and large clipper that can be used on fingernails as well as toenails.
In addition each clipper has a swing out nail file that can be used to gently file any rough edges or to clean underneath the nail. No additional implement is needed. The non-slip handles prevent finger from slipping during use. This is most handy for those with arthritis and issues with gripping.
Whole Health Supply always issues a 100% satisfaction guarantee. Should anyone be unhappy the company issues a full return.
Kohm is not new to the clipper industry. On Amazon alone it has sold over 1,000 Toenail Nippers which has become the #1 Best Seller in one category. Other clippers and nippers are just as popular.
Customer reviews are unsolicited for these products. One verified customer said this about purchasing a Kohm product: "I've purchase clippers at drug stores before and after my last one broke while using it I decided to look for something better. After looking at the pictures of this product and reading the description I took a chance and placed the order. The clippers arrived a few days later and I used them right away and was completely pleased with their performance. Not only was the design easier to use than any others I've had but the sharpness was wonderful. I'm hoping this pair lasts a long time but I'm keeping the box in case I ever need a replacement."
Just this month a podiatrist wrote: "Work nicely. I am a Podiatrist. No problems here. Less expensive and work as well and better than the high priced instrument." It is safe to say that the public can purchase this professional quality set at a fraction of the cost of surgical instruments.
The Kohm WHS-300 is available on Amazon.com. For more information visit http://www.amazon.com/dp/B01IKY46SY