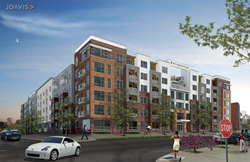 Raleigh, North Carolina (PRWEB) March 16, 2017
The Metropolitan luxury apartment community is taking shape in the Glenwood South neighborhood of Raleigh, North Carolina where the former Greyhound Bus terminal stood. The $51 million project has closed on its construction financing and broke ground in June 2016, putting it on schedule to open its doors in Fall 2017.
Taking design direction from an intimate, modern day speakeasy, the Metropolitan will be a 241 unit mid-rise urban hideaway comprised of Studio, 1- and 2-bedroom apartments. To balance out the market's current offerings, the community provides a higher number of larger 2 bedrooms. Its upscale resident amenity package features a rooftop deck with views of the city skyline, pet spa, golf simulator, and a throwback arcade room along with the classic indulgences renters have come to expect. The Metropolitan's elite Walk Score reflects its close proximity to local craft breweries, eclectic boutiques, top-rated restaurants, and downtown employers.
In addition to developing the Metropolitan, Banner Real Estate Group through its affiliate(s) ("Banner") own and operate approximately 6,000 multifamily units nationally. This community will mark Banner's fourth Raleigh property. With a projected job growth in 2017 at almost double the national average and forecasted rental growth at 3%, Raleigh continues to be a focal market for Banner. Banner is also a prolific developer and owner of institutional quality self-storage facilities in top national markets.
###
BANNER REAL ESTATE GROUP is a fully integrated real estate operating company based in Northbrook, IL, focusing on the acquisition, management and development of multi-family properties and the development of self-storage facilities nationwide.