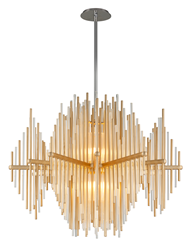 Our statement pieces draw inspiration from various elements of culture and aesthetic traditions - we focus on lighting fixtures with multidimensional design made of fine materials and manufactured to perfection. - Steve Nadell
City of Industry, CA (PRWEB) March 16, 2017
Corbett Lighting has introduced 17 new, expressively rich and visually stunning lighting fixtures into their already expansive offering of statement chandeliers, pendants, sconces and flush mounts. These fixtures reinterpret influential design periods, such as postmodernism, and explore the unique use of refined materials, like handblown and Venetian glass and silver and gold leaf finishes. Corbett's 2017 collections integrate compelling design and precise manufacturing with innovative LED lamping, making these the perfect fixtures for residential, retail, office and hospitality specifications.
"This is the year of the chandelier and of exceptional pendants for Corbett Lighting," said Steve Nadell, president of Troy-CSL Lighting. "Our statement pieces draw inspiration from various elements of culture and aesthetic traditions - we focus on lighting fixtures with multidimensional design made of fine materials and manufactured to perfection."
Corbett Lighting binds together aesthetic traditions, movements in art history and haute couture influences to create culturally expressive, visually provocative statement pieces. Using compelling design, fine materials and advanced manufacturing, Corbett Lighting approaches lighting design as an art, which is demonstrated by their meticulously perfected pendants, chandeliers, sconces and flush mounts.
The following products are highlights from Corbett Lighting's newest collections:
Theory
An ode to mid-century Italian design, Theory exudes prominence and stature through its layered, multidimensional shape. A series of horizontal spokes supports alternating clear glass and hand-finished gold leaf iron rods, creating a stunningly dynamic pattern with unique depth of field. Calibrated LED lighting gracefully illuminates, casting light upwards and downwards. Theory is offered in three pendant sizes, two semi-flush fixtures and two coordinating sconce options.
Arpeggio
Reminiscent of a piped wind instrument floating in midair, Arpeggio's rising and descending movement has a retro-modern feel that's fluid and rhythmic. Crafted of handworked iron and stainless steel, each precision-cut pipe is finished in antique silver leaf, giving it a warm and lustrous quality along with stainless accents, adding a spark of intrigue. Ideal for low ceilings where dramatic effect is desired but not easily attained, Arpeggio is equipped with 4 watt LEDs, providing a high 360 lumen output — ample light for very little wattage. The Arpeggio series is available in twelve-, ten- or six-light pendants and a coordinating one-light sconce.
Sauterne
An exceptionally unique pendant, Sauterne, reminiscent of a barrel from the French white wine region, combines nostalgic sensibility with a contemporary aesthetic. Its handmade Venetian glass "staves" offer classic lines surrounding its candelabra light source. Each piece of meticulously crafted glass is extruded by hand and mixed with gold flecks. A handcrafted iron hoop finished in gold leaf with polished stainless rivet accents cohesively connects each piece of glass to the stainless steel frame, giving the piece a sophisticated design. Sauterne is available as a six- and four-light pendant, a four-light semi-flush, a six-light dining pendant or in one of two coordinating two-light ADA sconces.
Mont Blanc
The cascading, icicle-like curls of Mont Blanc's handmade Venetian glass offer a stunning display of light. Clustered together by a myriad of small, handcrafted iron arcs, no two individually textured glass rods look the same, contributing to the organic, icy feel of the piece. Horizontally patterned silver leaf trim adds a sense of motion when viewing the dazzling pendant, giving a different perspective to the viewer from any angle. The collection is offered as a thirteen-, nine- or seven-light pendant, a two- or three-light sconce and a five-light semi-flush.
About Corbett Lighting
For more than 40 years, Corbett Lighting has created and manufactured lighting for residential, hospitality, commercial and contract markets. Corbett Lighting's superb craftsmanship and revered commitment to fine detailing and finishes are major brand characteristics and are evident in every beautiful design. From bias-cut crystals to delicate Japanese papers, Corbett Lighting uses only the most stylized and refined materials to reflect the latest trends in fashion, design and lifestyle. Adhering to meticulous manufacturing standards, Corbett Lighting not only maintains a level of consistency in production, but produces pieces that are superior in quality and unmatched in execution. Corbett Lighting also makes available a large selection of wall sconces and pendants to accommodate a wide spectrum of projects and applications. With its inclusive, on-site manufacturing facility, Corbett Lighting is able to produce custom lighting solutions that exceed even the most exacting standards. For more information on Corbett Lighting, visit: http://www.corbettlighting.com
About Littman Brands
Littman Brands is renowned for unique custom designs and high-quality lighting solutions for the residential, hospitality and contract arenas. Led by Founder and Chairman David Littman, whose family has maintained a key leadership role in lighting design for more than 85 years, Littman Brands is represented by four distinct brands: Corbett Lighting, Hudson Valley Lighting®, Troy Lighting and CSL® (Creative Systems Lighting). Each brand reflects an individual identity and specialization while maintaining the promise of uncompromising quality, expert craftsmanship and groundbreaking design. For more information about Littman Brands, contact DRS and Associates. david(at)drsandassociates(dot)com