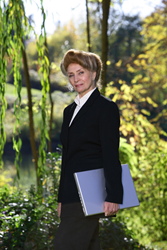 Grants Pass, OR (PRWEB) March 15, 2017
Sharon Kleyne, America's leading water researcher, advocate and host of the nationally syndicated radio program, The Sharon Kleyne Hour Power of Water, Global Climate Change and Your Health on Voice of America, recently remembered on air the infamous Saint Francis Dam disaster that took place on March 12th, 1928. Kleyne remembered the disaster as a way to highlight her support of new water infrastructure including more concrete dams and reservoirs. "We must do a better job," said Kleyne, capturing the water that falls to earth, much of which just runs off to the oceans."
The Saint Francis Dam was built of concrete between 1924 and 1926 under the supervision of the legendary William Mulholland, General Manager and Chief Engineer for the city of Los Angeles. But at 11:57 A.M. on the night of the 12th, the dam catastrophically failed. The flood that followed, Kleyne pointed out, killed approximately 600 people. It is one of the worst American civil engineering failures of the 20th century and remains the second-greatest loss of life in California history as a result of disaster. It is exceeded only by the 1906 San Francisco earthquake and fire.
When the dam collapsed, 12.4 billion gallons of water raced down San Francisquito Canyon, achieving a speed of 18 miles an hour and a wave height of 120 feet. The water flooded parts of present-day Valencia and Newhall, destroying power stations and leaving the entire San Fernando Valley without power.
Mulholland bravely took the blame, but according to Kleyne, there was no way to prevent the disaster—unless they had decided not to build the dam at all. At that time, Kleyne pointed out, scientists, architects and engineers lacked the technology and geologic understanding that would have led them to a grim discovery. One of the dam's abutments was tied into an ancient landslide. Once it was saturated with dam water, the slide gave way, taking part of the dam down with it.
It took decades for authorities to learn the true cause of the Saint Francis Dam disaster, yet Sharon Kleyne believes we are better positioned than ever to increase our global roster of concrete dams and causeways. As the need for water grows, so have our expertise and our ability to create the necessary new water technology that will save much more of nature's water for human consumption. "We have the wherewithal," said Kleyne. "Now we need the will." Kleyne is convinced that we need the technology for more dams, reservoirs and causeways to save the planet's water and provide clean drinking water for everybody and that this must be a top priority for government and science.