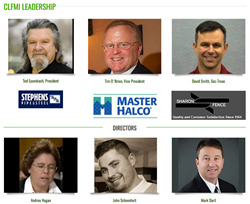 "CLFMI has been the industry's voice, a partner to the architectural and contractor communities, and the consumer's champion for over half a century."
Columbia, Maryland (PRWEB) March 16, 2017
The Chain Link Fence Manufacturers Institute (CLFMI) has announced the election of three industry leaders to its top volunteer positions for 2017.
Elected as CLFMI President for 2017 is Ted Eysenbach, General Manager of Stephens Pipe and Steel, Russell Springs, KY. Stephens is one of the world's leading manufacturers of chain link fencing fabric and framework. Prior to his position at Stephens Eysenbach was with Allied Tube & Conduit.
The 2017 CLFMI Vice President is Tim O'Brien, District Manager for Master Halco, Irving, TX. O'Brien previously was Vice President of sales for Specified Technologies Incorporated and Product Manager for Thomas and Betts, a global leader in wire and cable management. He is a graduate of Rider University.
David Smith, President of Sharon Fence Company, Sharon, PA, is the new CLFMI Secretary-Treasurer. Smith is a graduate of the U.S. Naval Academy
The three officers were joined on the CLFMI Board of Directors by Andrea Hogan, CEO of Merchants Metals, Atlanta, GA; John Schoenheit, General Manager for Pacific Fence and Wire, Clackamas, OR and Mark Daril, Sales Manager for Lock Joint Tube, Temple, TX
The announcement of the election of the Institute's leaders was made at their Annual Meeting in San Diego, CA. At that same meeting the Institute unveiled its 2017 Priority Programs, which included its outreach program to architects and engineers, its contractor education program, and the renewal of its residential market development effort.
 
About Chain Link Fence Manufacturers Institute
Chain Link Fence Manufacturers Institute is the leading organization of chain link fence manufacturers in the US, Canada and Mexico. For more information visit http://chainlinkinfo.org or call 301-596-2583