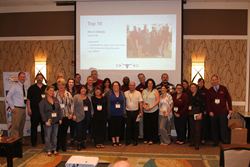 These 10 franchises highlight the capabilities and possibilities of owning and operating a Caring Transitions business.
Cincinnati, OH (PRWEB) March 15, 2017
Caring Transitions, America's largest resource for managing senior relocations as well as downsizing and estate liquidations, recently recognized the franchise system's most successful franchise owners. These Top 10 Awards were presented at Caring Transitions' national conference in San Antonio between February 22 and 24.
"These 10 franchises highlight the capabilities and possibilities of owning and operating a Caring Transitions business. We are the nation's leader in providing these kinds of services, but sometimes we're so focused on the operations that we forget the great heights this business can achieve and the wonderful things our franchisees are doing in their communities," Caring Transitions President Chris Seman said. "We are thrilled to include these franchisees in our Top 10."
Here's who was recognized with a Caring Transitions Top 10 Award:
Sherri Gillette
Caring Transitions of Southern Arizona
http://caringtransitionstucson.com/
Donna and Nicole Rea
Caring Transitions of North Dallas Suburbs
http://www.caringtransitionsnorthdallassuburbs.com/
The Reas were also recognized with the new Jeff Rea Caring for a Cause Award.
Bruce Treadway
Caring Transitions of Northern Illinois
http://www.ctnorthern.com/
Treadway was also recognized with a new Legacy Award for his 10 years in business and renewal agreement for another 10 years.
Rex Norris
Caring Transitions of Denton and Collin County
http://www.caringtransitionsdcc.com/
Terry Kern
Caring Transitions of Northern Virginia
http://www.caringtransitionsnova.com/
Kern also received Caring Transitions' Trailblazer Award.
Scott, Ben and Leilani Bleichwehl
Caring Transitions of San Antonio North
http://www.caringtransitionssan.com/
The Bleichwehls were also recognized with a Shooting Star Award.
Cindy and Steve Breck
Caring Transitions of Las Vegas
http://www.caringtransitions.com/SummerlinNV
Jared and Risa Meyer
Caring Transitions of Brazos Valley
http://www.caringtransitionsbrazosvalley.com/
The Meyers also received Caring Transitions' Franchise of the Year Award.
Mike Corey, Katherine Corey and John McClure
Caring Transitions of Tulsa
http://www.CaringTransitionsTulsa.com
Karen and Dan Menachof
Caring Transitions of Rochester
http://www.caringtransitionsrochester.com/
Two of the Top 10 Award winners – Donna and Nicole Rea of Caring Transitions of North Dallas Suburbs and Sherri Gillette of Southern Arizona – recognized their staff at the conference. These franchisees were also recognized as members of the Million Dollar Elite Club.
"At Caring Transitions, we understand that building a successful business starts with having the support of a great team. It can be challenging to find people with the right passion, drive and expertise to put together a winning staff, but, once you overcome that hurdle, all the pieces start to fall into place. I'm excited that our top franchisees wanted to take the time to recognize their staff not just as the local level, but also on the national stage," Seman said.
Here are the staff members who were recognized:
Caring Transitions of North Dallas Suburbs
Charlotte Krall
Kim Ludwig
Caring Transitions of Northern Arizona
Cheree Miller
Jeff Smith
Jade Boykin
Toni Smith
While the Top 10 Awards are based on financial success Caring Transitions President Chris Seman said the awards also recognize each franchisee's innovations and contributions both to their communities and to the Caring Transitions system overall.
"Our Top 10 Award winners are some of the most innovative franchisees in the company and I'm looking forward to having them surprise us over the next year. They are all developing and growing with similar goals, but in new and exciting ways that help the entire Caring Transitions system become successful. I'm excited to see what wonderful things they come up with this year," Seman said.
Whether the situation is planned or unexpected, Caring Transitions' services are perfect for seniors moving in with family or into a safer living situation as well as busy families and people clearing out the home of a loved one who has passed. In addition to organizing, packing, de-cluttering, moving and resettling, Caring Transitions can handle estate sales, liquidations, and preparing homes for market. All of Caring Transitions' services are customizable, so clients only pay for the services they need.
Caring Transitions was founded in 2006 and currently has more than 200 locations nationwide. Each local Caring Transitions owner is a Certified Relocation and Transition Specialist, a designation bestowed by an independent organization that evaluates providers of senior relocation services. All Caring Transitions franchises are also bonded and insured and all employees are background-checked.
About Caring Transitions
Caring Transitions, founded in 2006, is the first national franchising concept specializing in senior relocation and transition services. With more than 200 locations throughout the United States all owned and operated by Certified Relocation and Transition Specialists, Caring Transitions provides clients with supportive moves, auctions, rightsizing and transitions. This includes expert advice plus a well-executed transition plan beginning with the initial sorting of personal belongings through packing, shipping and selling of items to the final clearing and cleaning of the property.