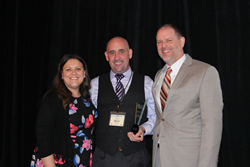 We put the Care into Caring Transitions. We genuinely care about the people we work with and we do everything we can do make the transition as stress-free as possible. We take it very personally.
Charleston, SC (PRWEB) March 15, 2017
When Brian Murray moved to Charleston to start his Caring Transitions business back in 2015, he knew he had a few hurdles to jump. Not only was he an immigrant trying to start a business in a new market, he was also new to the region and didn't have a network to help him get off the ground. But now, after fewer than two years since his grand opening, Murray is doing so well that the Caring Transitions corporate office has recognized him and Caring Transitions of Charleston with the company's Shining Star Award. The award was presented at Caring Transitions' national conference in San Antonio in late February.
"Since Brian opened his business in the summer of 2015, he's persistently demonstrated his commitment to the success and growth of his business and the Caring Transitions system while becoming deeply engaged and connected with his region. We recognized Brian with the Shining Star Award because we wanted to recognize how his mastery of communication and connections have earned him a place in our top 25 less than two years after opening the business," Caring Transitions President Chris Seman said.
Caring Transitions is America's largest resource for managing senior relocations as well as downsizing and estate liquidations. In addition to organizing, packing, de-cluttering, moving and resettling, Caring Transitions can handle estate sales, liquidations and preparing homes for market. Caring Transitions of Charleston serves Charleston, Mt. Pleasant, North Charleston, Isle of Palms, Sullivan's Island, West Ashley, Johns Island, James Island and the surrounding communities.
"I relocated to Charleston from New York and, when I got here, I didn't know anyone and a vast majority of the people I met didn't know anything about Caring Transitions. I went to a lot of trade shows, lunch and learns, meet and greets and other events to spread the word. As we overcome that education piece, people realize that Caring Transitions provides a much-needed service in a way that's respectful and caring," Murray said.
"We put the Care into Caring Transitions. We genuinely care about the people we work with and we do everything we can do make the transition as stress-free as possible. We take it very personally," he added.
Whether your situation is planned or unexpected, Caring Transitions' services are perfect for seniors moving in with family or into a safer living situation as well as busy families and people clearing out the home of a loved one who has passed. All of Caring Transitions' services are customizable, so clients only pay for the services they need – whether that means managing the entire move and estate-clearing or just getting someone resettled into their new place.
Murray said the ability to grow his business has come down to relying on the support of the corporate team, his supporters and his staff. It's also boiled down to understanding that, if you want to be successful, you can't be involved in the day to day operations of the company.
"Over these first two years, I've grown to learn that, the more time I work on by business and not in my business, the more successful we are. So I'm hiring people, training them to do the work I was doing, assigning them to that work and then guiding them along the way as needed. By taking off all those hats, I'm able to spend more time on marketing, pounding the pavement and connecting with the community. I think operating the business that way has helped us grow tremendously," Murray said.
"I didn't expect to be recognized; they awarded me for doing what I love to do! Of course I didn't do it alone – I receive a lot of support from the corporate office and my staff. I'm hoping, by working together even more moving forward, that we can continue to exceed expectations in the future," he said.
Murray is a Certified Relocation and Transition Specialist, a designation bestowed by an independent organization that evaluates providers of senior relocation services. Caring Transitions of Charleston is bonded and insured and all employees are background-checked. For additional information, call (843)410-2763, email BMurray(at)CaringTransitions(dot)net or visit http://www.CaringTransitionsCharleston.com.
About Caring Transitions
Caring Transitions, founded in 2006, is the first national franchising concept specializing in senior relocation and transition services. With more than 200 locations throughout the United States all owned and operated by Certified Relocation and Transition Specialists, Caring Transitions provides clients with supportive moves, auctions, rightsizing and transitions. This includes expert advice plus a well-executed transition plan beginning with the initial sorting of personal belongings through packing, shipping and selling of items to the final clearing and cleaning of the property. For more information, visit http://www.caringtransitions.com or visit us on Facebook.