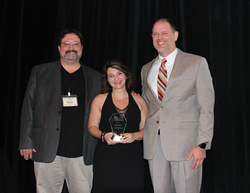 Erin worked extremely hard to help educate her community on all the services Caring Transitions provides. Her pioneer spirit has changed the perception of Caring Transitions in her market, which has helped her be successful.
Chicago, IL (PRWEB) March 15, 2017
When Erin Marcus opened Caring Transitions of Chicago and North Suburbs five years ago, she had a unique hurdle in front of her. Not only did she need to build a business – she also needed to reeducate her community about the evolving services Caring Transitions had to offer since the Company's first introduction to the market 10 years ago. Marcus has been recognized with Caring Transitions' national Bruce Treadway Pioneer Spirit Award for her efforts to do just that. The award was presented at the Caring Transitions national conference in San Antonio in late February.
When the 1st Caring Transitions opened in 2007, by Bruce Treadway, the namesake of the Pioneer Spirit Award, the company was known for its original service, estate sales. But, as Caring Transitions grew nationwide, the need to provide a total solution through the entire move management process became evident. When Marcus launched her business in 2012, she worked extremely hard to help educate her community of the additional services Caring Transitions had added to meet this need.
"We recognized Erin with the Pioneer Spirit Award because, when she launched her business in Chicago, Caring Transitions still known for estate sales in her region. Erin worked extremely hard to help educate her community on all the services Caring Transitions provides. Her pioneer spirit has changed the perception of Caring Transitions in her market, which has helped her be successful," Caring Transitions President Chris Seman said.
Marcus also earned the Caring Transitions Trailblazer Award back in 2014 for her role as an on-site training center and her efforts in marketing and branding both locally and nationally. Seman said her efforts to help other franchisees learn and grow while taking time to improve the national Caring Transitions franchise system played heavily into Marcus' recognition this year as well. As a Top 10 performing office, Marcus was not expecting to be recognized with this award.
"I was totally surprised by this award. I've been in business for five years now and while I had been recognized back when I started for the work I was doing, there are a lot of really great offices that have come onboard and I'm continually impressed by what they are bringing to the table," Marcus said.
Caring Transitions is America's largest resource for managing senior relocations as well as downsizing and estate liquidations. In addition to organizing, packing, de-cluttering, moving and resettling, Caring Transitions can handle estate sales, liquidations, and preparing homes for market. Caring Transitions of Chicago and North Suburbs serves Chicago North Side, Evanston, Glenview, Lincolnwood, Morton Grove, Niles, Northbrook, Skokie and the surrounding areas.
In addition to her passion for the business, Marcus credits her background and her overall "full service" approach to the work she does.
"I chose this franchise and this line of work because I wanted to make a difference for people. That being said, I have a heavy business-based background so my approach is to bring to individual families the benefits of a problem solving approach that keeps in mind the client's objectives, the logistics involved, the obstacles we may face and then provide an efficient and financially sound solution. I just do it in a fun, caring way! It sets me apart from my competition because the move managers are usually great care givers and the estate sale companies are very into the "stuff" but I am more focused on the overall situation and getting families through what is usually a terribly overwhelming and stressful time in their lives," Marcus said.
"In order to be successful in business you have to love the idea of running a business and the grind it takes to get there. For Caring Transitions the added benefit though is that at the end of the day, we get the added experience of really making a difference in people's lives," she added.
Whether your situation is planned or unexpected, Caring Transitions' services are perfect for seniors moving in with family or into a safer living situation as well as busy families and people clearing out the home of a loved one who has passed. All of Caring Transitions' services are customizable, so clients only pay for the services they need – whether that means managing the entire move and estate-clearing or just getting someone resettled into their new place.
Marcus is a Certified Relocation and Transition Specialist, a designation bestowed by an independent organization that evaluates providers of senior relocation services. Caring Transitions of Chicago and North Suburbs is bonded and insured and all employees are background-checked. For additional information, call (224)374-1996, email EMarcus(at)CaringTransitions(dot)net or visit http://www.CaringTransitionsEvanston.com.
About Caring Transitions
Caring Transitions, founded in 2006, is the first national franchising concept specializing in senior relocation and transition services. With more than 200 locations throughout the United States all owned and operated by Certified Relocation and Transition Specialists, Caring Transitions provides clients with supportive moves, auctions, rightsizing and transitions. This includes expert advice plus a well-executed transition plan beginning with the initial sorting of personal belongings through packing, shipping and selling of items to the final clearing and cleaning of the property. For more information, visit http://www.caringtransitions.com or visit us on Facebook.