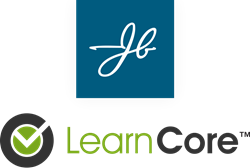 "I'm excited to be partnering with LearnCore to deliver my training content to our clients. Their platform helps reps & managers apply my training immediately & allows for ongoing coaching & reinforcement," said John Barrows, Owner, JBarrows Consulting.
Chicago, Illinois (PRWEB) March 16, 2017
LearnCore, the top video coaching and training solution for sales and customer success teams, is thrilled to announce its partnership with JBarrows Consulting, a leading sales training solution for some of the world's fastest growing companies. This partnership will help sales teams achieve greater results by offering JBarrows training content in the LearnCore platform and providing a complete sales training solution.
LearnCore has seen tremendous success helping companies like Box, CDW, AOL, and Zendesk streamline their sales training program through its Learn, Test and Pitch IQ video coaching modules. With LearnCore, teams from across the organization can easily access sales concepts and messaging, practice application and receive valuable feedback from managers and peers remotely. LearnCore's focus on premium content allows clients to draw from a library of the highest quality, training solutions proven to escalate sales effectiveness and integrate them into existing training programs.
With over 18 years of sales leadership experience, John Barrows started his consulting firm to specialize in outbound sales efforts, from identifying your target, to messaging through different mediums and prioritizing your time. JBarrows offers 10 online sessions focused on real world application with videos and exercises that help increase prospecting among sales teams. Thousands of individuals at high growth companies, like Tableau, HP, Salesforce.com, and LinkedIn, have used JBarrows online learning portal focused on "filling the funnel" to gain new business and drive results.
"This partnership is a huge win for our clients. John is a well known thought leader in the sales training world; he has built a brand that is known to deliver results and his content is second to none. As our clients build out their sales enablement and onboarding programs, JBarrows content allows them to make an impact on day one," said Ryan Leavitt, Chief Revenue Officer of LearnCore. "We often hear the request for training content to complement or replace their own, so we are excited to offer John's content as a high quality solution to ease the development period and accelerate the impact of training."
With this new partnership, JBarrows sessions will be integrated into the LearnCore curriculum, enabling sales representatives to learn the content, review the resources, and complete the JBarrows activities using the Pitch IQ module. Sales leaders can review their reps' responses and hold teams accountable to make sure they can actually apply what they have learned.
"I'm excited to be partnering with the LearnCore team to deliver my training content to our clients. Their platform helps reps and managers apply my training immediately and allows for ongoing coaching and lesson reinforcement," said John Barrows, owner of JBarrows Consulting. "LearnCore and I share in the goals of creating quality content and of helping to elevate the sales profession. I'm excited to see where we can go together and what difference we can make."
This JBarrows content will be automated for rollout. Clients can access it with one click in their account settings and are able to incorporate it directly into their training curriculum. This is the first of several partnerships for LearnCore as they build out a library of premium content to enhance the customer experience and maximize training effectiveness.
Visit LearnCore to find out how you can incorporate JBarrows content into your LearnCore curriculum.
About JBarrows Consulting
John Barrows currently provides sales training and consulting services to some of the world's leading companies like Salesforce.com, Linkedin, Apttus, DropBox, Box and many others. His previous experiences span all aspects of Sales at every level from making 400 cold calls a week doing inside sales to running sales as a VP for his first start up and selling it to Staples.
He's an active sales professional who has learned a lot about what works and doesn't work in Sales and loves sharing the tips and techniques he has found to have had an impact along the way. His main goal is to improve the overall education and quality of Sales by sharing ideas and techniques that work. For more information, please visit http://jbarrows.com.
About LearnCore
LearnCore is a video coaching and training platform for sales and customer success teams. Companies use LearnCore to ensure their teams are certified and up-to-speed on new or existing messaging at a company-wide or product level. LearnCore's methodology develops both knowledge and skills using educational content, testing, and virtual role-play to help teams practice, coach and socialize best practices. For more information, please visit http://learncore.com.