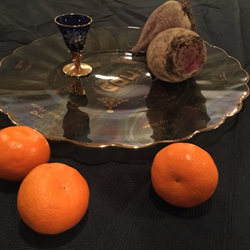 Our Passover celebration highlights freedom, with the strength of the diaspora to build community in a spiritual place
(PRWEB) March 28, 2017
On Tuesday April 11, Sim Shalom will host a second night Seder much the way Moses journeyed, on the go and portable, albeit with wi-fi. The second night Seder will include festive freedom songs including Dayenu and readings from the Haggadah, to retell the story of liberation. But this Seder plate, with foods that represent the hardships Jewish forebearers endured, will be passed virtually. Unlike the forty days traveled through the desert in ancient Egypt, followers can join from wherever they call home. All are welcome to join and participate via live chat by clicking on Sim Shalom's website or Facebook live at 7:00pm EST.
According to Sim Shalom's Founder, Rabbi Cantor Steven Blane "Our Passover celebration highlights freedom, with the strength of the diaspora to build community in a spiritual place. Passover is one of our most celebrated holidays. By passing the Manischewitz virtually to one another we nourish connections, traditions and our creativity to go forward."
For those wandering the New York area on April 10, Rabbi Blane will lead a first night Seder with joyful Passover music at the Knickerbocker Bar & Grill in Greenwich Village in NYC beginning at 5:00pm. For more information and to make reservations contact the Knickerbocker at 212-228-8490. Sojourners can join him live in New York on Monday or Tuesday online for the global Seder.
Festivities will last all week on Sim Shalom's Facebook live. There will be inspiration and Passover meatless recipes in support of Sim Shalom's partnership with the international Meatless Monday Campaign to protect ones health and the health of the planet. The Union of Jewish Universalist Communities Rabbis will be broadcasting on JU-tv with themes centered on Passover, including Music Monday, How to Tuesday, Wisdom Wednesday and Ask the Rabbi Thursday. The global door remains open for Elijah.
About Sim Shalom
Sim Shalom is an interactive online Jewish Universalist synagogue which is liberal in thought and traditional in liturgy. Created in 2009 by Rabbi Steven Blane on Manhattan's Upper West Side, Sim Shalom offers a means of connecting the unconnected. Rabbi Blane leads accessible and short Shabbat services every Friday night using a virtual interface and additionally Sim Shalom provides online education programs, Jazz concerts, conversion and life-cycle ceremonies along with weeknight services at 7:00PM EST led by Rabbis and students of this online community.
Rabbi Blane is also the founder and director of the Jewish Spiritual Leader's Institute, the online professional rabbinical program.
Sim Shalom, a non profit 501 © (3) tax-exempt organization, nurtures a Jewish connection through its mission of innovative services, creative education and dynamic outreach to the global community. For more information visit our website or call 201-338-0165.