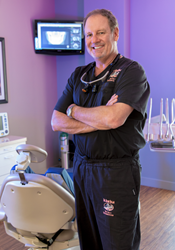 Mt. Pleasant, SC (PRWEB) March 15, 2017
Dr. Hogan is thrilled to announce that the LANAP® protocol is now the world's first FDA-cleared protocol for True Regeneration® and treatment of gum disease. With LANAP treatment, Dr. Hogan helps patients fight periodontal disease and gives them the tools necessary to regenerate gum and bone tissues lost to gum disease. Dr. Hogan, and his dedicated team, are now accepting new patients for this leading, minimally-invasive laser dentistry treatment in Mt. Pleasant, SC in order to save patients' teeth and reach proper oral health and function.
The LANAP protocol is the first ever FDA-cleared laser treatment within the dental field for treatment of periodontal disease and regeneration of tissue, including bone. In a historical first, the protocol has now been proven to regenerate some of the most vital tissues necessary for healthy attachment of the teeth, including the cementum, alveolar bone and periodontal ligaments. Applying skilled laser dentistry in Mt. Pleasant, SC, tissue is truly regenerated, or returned to its normal, healthy state following severe damage from gum disease.
Gum disease begins with a mild infection and inflammation of the gums. When left untreated, it can progress into periodontal disease, which can breakdown the connective tissues of the gums and teeth. Eventually, the condition reaches its most severe stage, periodontitis. At this point, the damage to the gums and jaw bone is substantial and teeth may begin to become loose or fall out. With the help of the LANAP protocol and the PerioLase® MVP-7 laser, patients may be able to halt, and possibly reverse the damage caused by periodontal disease, regenerate gum tissue and inspire new bone growth, with minimal discomfort.
Dr. Hogan encourages patients to experience the LANAP protocol remarking that, "it's a seamless procedure that provides outstanding post-op treatment and results." In an average of four to five hours, a patient's entire mouth can be treated and he or she can return to normal daily routines the following day with minimal recovery time.
Patients interested in learning how laser dentistry in Mt. Pleasant can eliminate their gum disease and save their natural teeth are invited to contact Dr. Hogan's office for more information. To schedule an appointment, call 843-639-5921.
About the Doctor
Dr. Kevin Hogan is a general dentist providing individualized care for patients in Mt. Pleasant, SC. Dr. Hogan is a graduate of the Indiana University School of Dentistry and has completed hundreds of hours of continuing education courses to stay contemporary with the latest dental technologies. In addition, he has also completed coursework with the Dental Organization for Conscious Sedation and has lectured at the University of North Carolina, Emory University, the Saginaw Valley University and AUA-American University of Antigua on head and neck anatomy and oral pathology. Dr. Hogan is a member of the American Dental Association, International College of Cranio-Mandibular Orthopedics, Academy of Laser Dentistry, International Association of Physiologic Aesthetics, Institute for Advanced Laser Dentistry, DOCS (the Dental Organization for Conscious Sedation), International Congress of Oral Implantologists and the South Carolina Dental Association. He is also a past member of the American Straight Wire Orthodontic Association, Maxillofacial Orthopedic Growth and Development, the American Academy of Pediatric Dentistry and the Functional Orthodontic Society. He and his team are dedicated to providing exceptional oral care to patients through personalized treatment plans. To learn more about the services offered by Dr. Hogan, please visit his website at http://www.smilesbyhogan.com or call 843-639-5921.