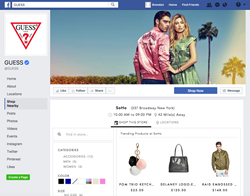 Our initial deployment of Radius8 drove amazing results proving that local merchandising resonates with our .com visitors. We are excited to expand our use of Radius8 further
Las Vegas, Nevada (PRWEB) March 20, 2017
Global lifestyle brand GUESS, Inc. announced today the expansion of their deployment of Princeton, NJ-based retail start-up's Radius8's contextual retail platform.
GUESS launched Radius8's technology in 2016, replacing their traditional store locator page with a dynamic local experience where consumers seamlessly discover what items are best sellers at the stores nearest to them. GUESS is expanding this local-contextual merchandising across the rest of their E-commerce website and mobile application. In addition, GUESS will be leveraging Radius8 to power a shop the store experience within their Facebook page. The expansion is paying off, where store-powered E-commerce enabled by Radius8 is seeing high conversion and driving an average order value that is 25% higher than the typical e-commerce transaction.
Radius8's platform empowers retailers to collect, measure, and act on hyper-local data around the radius of their brick and mortar stores, using that data to influence digital outcomes on their e-commerce site, as well as, driving greater foot traffic into their physical stores. Radius8 is the first company to leverage 'ambient' local data sources to drive increased engagement and online conversion.
"Our initial deployment of Radius8 drove amazing results proving that local merchandising resonates with our .com visitors. We are excited to expand our use of Radius8 further," said Edward Park, SVP Retail and Digital, GUESS, Inc. "Not only has Radius8 been bringing more traffic to our stores, but they have been helping our online conversion as well."
"Working with Radius8 has been an effortless experience due to their ability to adapt and innovate which is in line to our vision and strategy," said Edward Park. "Their solution is truly innovative in terms of deployment and usability compared to what we are used to. We launched their Facebook tools in a matter of hours. With any other solution that would have taken days if not weeks. The mobile app deployment was just as smooth."
"The Radius8 platform architecture was designed to avoid the typical friction associated with retail technology deployments while bringing a unique hyperlocal lens to the shopping experience," said Radius8 co-founder and CEO Sandeep Bhanote, "You can have the best solution in the world, but if it isn't easy to deploy and use, your customers won't be able to leverage its value. That is all-to-often the case with retail technology."
"Radius8 is revolutionizing the way we think about our stores and e-commerce at GUESS. We are looking forward to a successful 2017 using their technology," Park said.