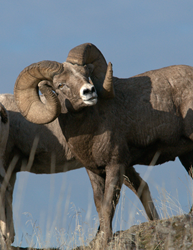 "The genius of conservation in contemporary North America is its explicit link to hunting." Shane Mahoney
(PRWEB) March 16, 2017
One of the world's top wildlife biologists and conservationists, Shane Mahoney, says many people may be surprised at how hunters and conservationists work together to help wildlife in North America.
In a newly- released publication, Conservation and Hunting in North America II, Mahoney presents the views and research of 29 scientists and wildlife experts who have spent their lives studying wildlife management and what is often perceived as a wide division between hunters and conservationists.
"In my career as a research biologist, I have witnessed first-hand how biological specimens and information contributed by hunters led to vastly improved understanding of wildlife species," said Mahoney. "The genius of conservation in contemporary North America is its explicit link to hunting, a link that paradoxically arose out of the near extermination of many wildlife species in the 1800s."
Mahoney said American hunters have directly contributed over $7.2 billion to state wildlife conservation efforts since 1932, and, from 2005-2009, taxes from the hunting industry generated an annual average of $335 million to various states for wildlife conservation. Also, the American Sportfishing Association reports that U.S. anglers donate over $400 million annually to various conservation and fishing organizations.
"In 2011, hunters in the U.S. alone spent $796 million on licenses and permits that go directly to the respective state wildlife agency," said Mahoney. "Then you have hunting and conservation based non-governmental organizations like the Wild Sheep Foundation, which has raised and distributed more than $100 million over the past 40 years for wild sheep conservation. Without hunting, contemporary wildlife management in North America would be severely weakened in terms of economic and social support."
Conservation and Hunting in North America II, published by the International Journal of Environmental Studies (IJES) is the completion of Mahoney's second turn as editor with IJES. His first monograph in this two-part series was published in 2013. Both feature a collection of original manuscripts, primarily by Canadian and American authors, all of whom are experts in their fields and are well respected within the international conservation community. Each article focuses on a different aspect of the historic and ongoing relationship between conservation and hunting, with heavy emphasis on the North American context.
"We introduce case studies for wildlife species recovery and address topics such as private land conservation, the economic and social benefits of hunting, trapping and furbearer management and the conservation benefits of recreational angling," said Mahoney. "These studies explain the history of hunting in North America and establish its ongoing relevance in modern society. Sustainable use of wildlife can be a tool for conservation in any geographic locale, though its effectiveness depends on specific social and cultural contexts.
###
Shane Mahoney is the recipient of numerous awards, including the Gold Medal in Wildlife Science by the Caesar Kleberg Institute and Safari Club International's Conservationist of the Year. His extensive scientific research has been published in more than 20 peer-reviewed journals and eight books. He has published more than 100 popular articles, has appeared as host or narrator for a variety of radio and television efforts and has collaborated with National Geographic to produce award-winning films
Mahoney is also Vice-Chair of the International Union for Conservation of Nature's Sustainable Use and Livelihoods Specialist Group, International Liaison for The Wildlife Society, and North American Expert to the International Council for Game and Wildlife Conservation. He is also the director of Colorado's High Lonesome Institute.
For more information about Shane Mahoney, Conservation Visions Inc., and The Wild Harvest Initiative, visit http://www.conservationvisions.com. Both volumes of Conservation and Hunting in North America are available as digital downloads at http://www.tandfonline.com/toc/genv20/72/5.