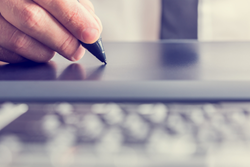 Safety and control are critical in the banking industry, and customers want to be assured that their bank will protect their personal information.
Chattanooga, TN (PRWEB) March 21, 2017
SIGNiX, the first provider of cloud-based digital signatures in the U.S., announced today that it has partnered with Andrew Johnson Bank to integrate SIGNiX's Independent E-Signature™ technology into the banking system. This partnership is a result of SIGNiX's recent affiliation with the Tennessee Bankers Association (TBA), the statewide organization that represents and supports bankers in Tennessee.
"It was important to us to choose a secure e-signature solution that we could easily implement in every department and customize to our own branding. We have already seen how this integration with SIGNiX will allow us to streamline processes and increase efficiency," said Andrew Johnson Bank's Senior Vice President and Chief Credit Officer Brian Pate. "It also gives us a competitive edge in the digital world, and we know our customers appreciate the convenience of safely signing documents from anywhere."
SIGNiX's Independent E-Signatures™ adhere to international, published standards so the e-signed documents are valid forever. Each signature is permanently embedded into the signed document through public key infrastructure, providing companies with immutable legal evidence to prove a signature's validity if it is ever called into question. The SIGNiX technology also has sophisticated security features including multiple identity authentication methods, tamper-evident technology which detects when an unauthorized change has been made to a document, and a comprehensive audit trail that provides further legal evidence and reduces the risk of fraud.
"Safety and control are critical in the banking industry, and customers want to be assured that their bank will protect their personal information," said Jay Jumper, CEO of SIGNiX. "At SIGNiX, we are committed to providing multiple levels of cybersecurity protection in an easy-to-use product. We are delighted to partner with Andrew Johnson Bank to help make its banking processes more secure and efficient than ever before."
"We have been enjoying our partnership with SIGNiX, and we're excited to see an increasing number of banks in our association take advantage of all that its Independent E-Signatures™ can offer," said Stacey Langford, senior vice president of membership at TBA. "SIGNiX enables our member banks to be more efficient, ease the burden of compliance and reduce risk."
###
About SIGNiX: SIGNiX, the most trusted name in Independent E-Signatures™, makes signing documents online safe and secure with comprehensive legal evidence permanently embedded in each document to eliminate any dependence upon SIGNiX. The company's cloud-based service uses patented technology to give businesses and organizations the most secure and legally defensible e-signatures available at a fraction of the cost of wet ink signatures. SIGNiX's products help the world's leading companies become more efficient, decrease risk and boost profits. For more information, visit http://www.signix.com. You can also follow SIGNiX on Twitter @signixsolutions and LinkedIn.
About Andrew Johnson Bank:
Headquartered in Greeneville, Tennessee, Andrew Johnson Bank is a privately owned community bank with seven full-service offices in Greeneville, Morristown, Jonesborough, Johnson City and Cleveland, Tennessee. For more information, visit https://www.andrewjohnsonbank.com/.
###