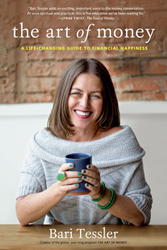 Berkeley, CA (PRWEB) March 16, 2017
This is the time of year when W-2s start to land in mailboxes and libraries load up on tax forms, and the specter of Tax Day looms large. In some ways, the build-up to tax day is worse than actually doing one's taxes. But don't lose heart. Financial therapist Bari Tessler is here to show us how to ease the stress of tax season.
"Money isn't just about the numbers," says Tessler. "It's also about our relationship with ourselves."
Changing how we relate to money requires us to confront habits and beliefs that we have held for a long time. So where do we start? According to Tessler changing your outlook can begin with these seven steps:
1. Celebrate. "Don't forget to celebrate the income you have earned, and thus the taxes you may owe. Here's a great nugget from one of the Guest Teachers in the Art of Money, Nona Jordan: 'I hope you celebrate that more taxes = higher income = higher impact in the world.'"
2. Forgive. "Where and who do you need to forgive? Many of us carry big shame around what we haven't done around taxes. A dose of forgiveness will help you move forward."
3. Complete. "What needs to get done? What feels doable to take care of? Perhaps it's time to organize those receipts. Or file for an extension and line up support to get things filed. Or even step into a process of clearing up back taxes owed, so that you can move forward on solid ground."
4. Gain Clarity. Clarity feels good. I love this from one of my Art of Money adventurers:
"It is a relief to have faced those numbers…and I grew to kind of like them by the end of the day long 'intervention' I had with myself. No, the bottom line is bleak…but it feels better to know where I stand then to not."
5. Learn. "We're always learning, and we need to always be learning. I'm learning for sure. Personally, as my business grows and evolves, so do my taxes."
6. Feel. "Sometimes, the best we can do is simply allow ourselves to feel what's there. This is progress, don't doubt that."
7. Envision. "2017 Tax Day is a great time to plant seeds for what you'd like to see when 2018 Tax Day comes around. What would you like it to look like? Feel like? What's a baby step you can take now to help create the pathway to this vision?"
Wherever you are in your relationship with your money and your taxes, it's important to show up to Tax Day 2017 in a way that moves you forward into love, empowerment, clarity, and peace. As Tessler says, "This is a ripe opportunity that is yours for the taking." Good luck!