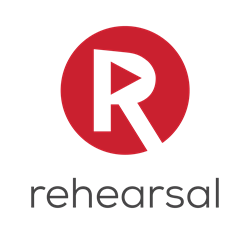 Reno, Nevada (PRWEB) March 28, 2017
Rehearsal, the leading video-based practice platform, today announced the addition of screen capture to its suite of practice solutions. Included free of charge with all Rehearsal offerings, screen recording is a platform extension that gives anyone using Rehearsal the ability to create, upload, and share screen recordings in real time. Providing fast, easy, screen recording will help learners practice and communicate more clearly and comprehensively than ever before.
"We are making it easy for our customers to capture their screen as part of their everyday practice approach. The seamless integration of screen recording tears down the barriers that have kept users from reaching the next level of practice performance. By allowing users to record their screen in real time, it's now possible to develop truly complex practice scenarios, such as giving detailed Powerpoint presentations or demonstrating hands-on software proficiency," said Darik Volpa, Founder and CEO of Rehearsal.
With over 120,000 active users, and dozens of Fortune 500 customers, Rehearsal continues to introduce best-in-class technology advancements to lead the industry in video-based practice.
About Rehearsal
Rehearsal is a video-based practice platform. It gives your team a safe place to role-play and develop their communication skills so they can perform when it matters. Conveniently review, coach, and share responses to inspire the whole team. Learn more at http://www.rehearsal.com
Rehearsal is privately held, debt free, and rapidly growing.