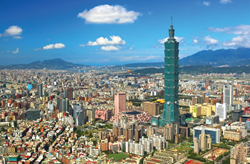 (PRWEB) March 16, 2017
A fascinating experience for your layover time in Asia. The Tourism Bureau of the Republic of China offers the brand new 2017 free half-day tour for international travelers to better experience Taiwan during their transit. The two itineraries -- "Sanxia + Yingge Culture Tour" in the morning, and "Taipei City Tour" in the afternoon -- feature highlighted glimpses into the metropolitan and the best traditional arts and crafts experience. Passengers with 7 to 24-hour layovers before their next connecting flight can sign up at the Tourist Service Center located in the arrival lobbies of terminals 1 and 2 of the Taiwan Taoyuan International Airport.
The "Sanxia + Yingge Culture Tour" begins at 8 AM every day from the airport and returns at 1:15 PM. The five-hour light tour ventures into the route of arts in Taipei, stops by two famous and nostalgic suburbia--Sanxia and Yingge. Praised as the most beautiful temple in Taiwan and the palace of Eastern arts, the Sanxia Quingshui Zushi Temple is known for its intricately carved stone, wood, and bronze fixtures that are embedded with rich history where visitors can immerse themselves through the Sanxia old streets - a heritage site of the interchanging Eastern and Western cultures.
The "Taipei City Tour" leaves at 1:45 PM and returns to the airport at 6:30 PM. It takes you through popular sites that travelers can find in every travel guidebook for Taipei, including the iconic Taipei 101 landmark skyscraper, and the Longshan Temple which exemplifies the delicate southern style architecture. Visitors get to tour across the city from east to west, passing by Songshan Cultural and Creative Park, Sun Yat-sen Memorial Hall, and the Presidential Office Building. This tour features the trendy, historical, and cultural elements of the cityscape.
Only one tour can be signed up for each transit. Each tour is limited to 18 passengers. Reservation is now available for 2017 (limited to 6 seats for each tour). Baggage must be stored at the airport; travelers will get to relax and enjoy the cultural and urban landscape within the limited time through transit.
For reservation details, please visit http://eng.taiwan.net.tw/tour/index.htm.
Follow and LIKE our Facebook fan page at http://www.facebook.com/TourTaiwan for the most updated Taiwan tourism news.